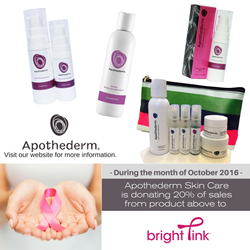 Bothell, WA (PRWEB) September 30, 2016
The skin care experts have also rolled out an exclusive "Nourishing Pink Duo Set" available only in October that includes the line's newest addition, Apothederm Nourishing Eye.
Providing a gentle but highly-effective combination of copper peptides, antioxidants and vital skin vitamins, Apothederm Nourishing Eye helps restore noticeable vibrancy while also protecting against damaging free radicals. The addition of botanicals help calm and soothe, as coveted natural hyaluronic acid hydrates & penetrates tired skin to revive the entire eye area. The appearance of fine lines and wrinkles is effectively diminished over a short period of time. Fragrance-free Nourishing Eye protects the moisture balance to help reduce puffiness and dark circles, as well.
The already-popular Apothederm Nourishing Serum, which also simultaneously uses botanicals and hyaluronic acids, works to diminish lines on the entire facial area, and is included in the charity pack. This dynamic skin duo would regularly cost $120, but is now $100 with $20 donated to Bright Pink, a non-profit organization focused on the prevention and early detection of breast and ovarian cancer. Bright Pink (BrightPink.org) has founded effective in-person and digital programs that inspire powerful, life-saving action.
"We are honored to be participating with Bright Pink to help promote early detection and awareness," said Robin Carmichael, COO and President of Helix BioMedix, Inc. "Our Apothederm® Nourishing Serum and Eye are power packed skin revitalizing products to help women look and feel their best.
Along with the Nourishing Pink Duo Set and the Nourishing Serum and Eye as separate promotional purchases, a 20% discount will be granted to sales of other "pink" Apothederm products, including Apothederm Facial Enzyme Exfoliant scrub that uses potent enzymes to deliver new, healthy looking, glowing skin; and the Apothederm Deluxe Travel Kit, a colorful cosmetic bag filled with travel-size, best-selling products. Apothederm has supported other philanthropic endeavors including Animal Well-Being.
# # #
About Apothederm Skin Care by Helix BioMedix, Inc.:
Backed by 20 years of research and development in the skin science, Helix BioMedix has discovered and patented over 100,000 peptide sequences. The Company's SmartPeptides® Biotechnology is based on the skin's own natural protect and restore functions. The Apothederm skin care line includes products for anti-aging, acne, skin brightening and stretch marks and offers solutions for skin problems, such fine lines and wrinkles, loss of elasticity, firmness and definition and uneven and dull skin tone. http://www.helixbiomedix.com & http://www.apothederm.com. Apothederm has supported many philanthropic endeavors including sustainability and animal well-being over the years.
About Bright Pink:
Bright Pink is a national non-profit focused on the prevention and early detection of breast and ovarian cancer in young women. The organization's mission is to save women's lives from breast and ovarian cancer by empowering them to live proactively at a young age. Bright Pink's innovative programs educate and equip young women to assess their risk for breast and ovarian cancer, reduce their risk, and detect these diseases at early, non life-threatening stages. Founded in 2007, Bright Pink strives to reach the 52 million women in the US between the ages of 18-45 with this life-saving education. Put Awareness In Action™ at http://www.BrightPink.org.