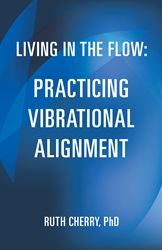 San Luis Obispo, Calif. (PRWEB) October 03, 2016
Clinical psychologist and meditator, Ruth Cherry, PhD, often shares her knowledge of and experience working with Universal wisdom principals. She offers readers hope in the new companion set "Living in the Flow: Practicing Vibrational Alignment" and "Accepting Unconditional Love."
Cherry discovered Universal wisdom principals after facing personal challenges, a result of receiving a devastating diagnosis. She learned to use them for her own healing. She teaches readers that by moving deeply into their essential core, anyone can access Universal wisdom and healing.
"Living in the Flow: Practicing Vibrational Alignment" is Cherry's personal story, including seven months of journal writing. With psychology articles, spirituality articles, and meditation instructions, she teaches readers to know and work with their inner worlds. "Accepting Unconditional Love" carries these themes further and guides readers to practice vibrational alignment in the context of their own lives. With a powerful message and inspirational tone, no other books of this kind exist on the market today.
"Written for anyone who faces a challenge—physical, emotional, financial, relational—these books translate time-tested wisdom principles into daily activities," says Cherry. "Readers learn what vibrational alignment is and how they can use it to heal."
"Living in the Flow: Practicing Vibrational Alignment" and "Accepting Unconditional Love"
By Ruth Cherry, Ph.D.
ISBN: 978-1-5043-2893-7 (LIF), 978-1-5043-6207-8 (AUL)
Available on Amazon, Barnes & Noble, and Balboa Press
About the author
After receiving her doctorate in Psychology over 40 years ago, Ruth Cherry, PhD, has devoted her career to the study of the integration of psychological and spiritual dynamics for healing. She lives in California, where she practices individual psychotherapy, guides meditation groups, and writes. For more information on the author and her work, please visit http://www.meditationintro.com.
For review copies & interview requests, contact:
LAVIDGE - Phoenix
Lauren Dickerson
480-998-2600
ldickerson(at)lavidge(dot)com