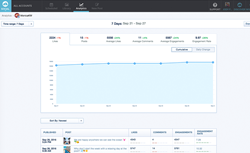 "Using the Chute platform, our customers are already finding the perfect user-generated images for their needs - we wanted to make it that easy for finding creators too."
San Francisco, Calif. (PRWEB) September 29, 2016
Chute, the leaders in enterprise UGC marketing, today launches Chute Influence, a combination of software and services designed to streamline the process for brands to identify, engage and work with social influencers. Chute Influence can be used to establish influencer marketing programs as well as integrate into brands' existing influencer marketing platforms and services.
"Influencers have become key for brands seeking to effectively reach audiences that are more separated and distracted than ever," Ranvir Gujral, Chute co-founder and CEO said. "However, most marketers are managing their programs completely manually and have no real way to discover or vet these creators effectively. Using the Chute platform, our customers are already finding the perfect user-generated images for their needs - we wanted to make it that easy for finding creators too."
This offering adds on to Chute's best-in-class user-generated content automation and insights platform and features six main components:
Product Features Include:
Interest Search: Discover niche interests important to a brand's audience using social data along with demographic, geolocation and affinity insights
Identify & Vet: Identify and recommend influencers within these topics for brands to engage or partner with by looking at their current relevance, engagement and growth trajectory.
Engage: Like and comment on influencers' posts and content at scale to both build and maintain relationships
Monitor: Track key influencers to spot trends in general content plus determine if agreed-upon content is posted on time and within outlined parameters
Track: Monitor micro-influencers to continually identify emerging influencers, as well as identify those with waning influence
Evaluate & Report Back: Compare engagement rates of posts shared by your micro-influencers against your branded posts, and determine the most effective content and influencer partners
"Working with influencers has become pivotal to our marketing efforts," Kaitlin Godbey, communications specialist from TravelNevada, said. "This content has immense sway with today's travelers - influencing where they go next and what they purchase. However, manually discovering, vetting and maintaining relationships with these creators is both time-consuming and unwieldy."
Marketers' Top Influencer Marketing Roadblocks
Chute also released new research examining marketers' influencer partnership strategies. The results indicate that while marketers face serious hurdles, they intend to increase budgets for this form of marketing in 2017.
Why has influencer marketing become so pivotal for brands? 70% said their top reason was to reach niche audiences with the most important goal being increased engagement (41%).
The top reason marketers aren't currently partaking in influencer marketing is they don't know who the influencers are they should be working with or how to start an influence program. This is exacerbated by the fact that 87% are forced to maintain their programs completely manually. The top three tactics they need automated are: Measuring ROI (80%), Tracking influence (66%) and Influencer discovery (60%).
A complete set of data and summary report is available here.