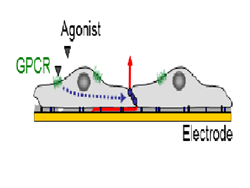 Troy, NY (PRWEB) January 20, 2016
Applied Biophysics has released an application note to guide cell biologists in utilizing impedance measurement to study receptor stimulation using cell morphology changes, typically through changes in the cytoskeleton or at cell-cell and cell-substrate binding proteins. G-protein coupled receptors (GPCR) belong to one of the most widely studied receptor type, as changes in function or expression of members of the 7-transmembrane receptor group can be associated with numerous diseases.
The vascular endothelium is a prime example to illustrate the importance of GPRC activity studies. Various members of the GPCR family are associated with the regulation of endothelial barrier function, which is an essential means to control proper functionality of the vascular wall during infection and inflammation. Cell-cell junctions are temporarily opened to allow for fluid and immune cell extravasation to clear the affected tissue. However, chronic impairment of the endothelium induced by deregulation of GPCR signaling can lead to serious problems. Therefore a proper understanding of signaling mechanisms and their implications belong to one of the central tasks of biological research.
ECIS (Electric Cell-substrate Impedance Sensing) is a tool to study the functional implications of receptor signaling involved in barrier function regulation in endothelial cells.
Go to http://www.biophysics.com/PDFS.php and download "GPCR Mediated Signal Transduction in Endothelial Cells" for the complete application note.
For further information contact:
Wendy Ladouceur
Applied BioPhysics
185 Jordan Road
Troy, NY 12180
Ph: 1-866-301-ECIS (3247)
Fax 518-880-6860
ladouceur(at)biophysics(dot)com
For technical questions:
Chris Dehnert
Applied BioPhysics
185 Jordan Road
Troy, NY 12180
Ph: 1-866-301-ECIS (3247)
Fax 518-880-6860
dehnert(at)biophysics(dot)com