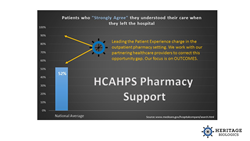 What are the implications of 48 out of 100 patients not understanding their care as they exit the hospital?
Kansas City, MO (PRWEB) January 22, 2016
Heritage Biologics continues to lead the Patient Experience charge in the Specialty Pharmacy with the announcement of the RXPX initiative today. This important collaborative program aims to advance the traditional hospital Patient Experience (PX) program into the outpatient pharmacy setting. Specialty Pharmacies play an integral role in the overall healthcare model. The pharmacy is the link between the healthcare provider and the patient. As the healthcare market evolves, continuity of care will become increasingly critical across the healthcare spectrum. Transitioning to outpatient care will be a key driver, and monitoring that part of the puzzle is becoming a priority for all stakeholders.
Some alarming statistics have been uncovered by the Hospital Consumer Assessment of Healthcare Providers and Systems (HCAHPS) program. CMS implemented the HCAHPS survey in October 2006, and added the feature that allows patients to compare hospital survey results in 2008. This data system allows for patients to make better informed decisions and gives them a medium to provide feedback. HCAHPS results also identify major gaps in hospital settings that can negatively impact health outcomes.
The graph to the right highlights where things get interesting. What are the implications of 48 out of 100 patients not understanding their care as they exit the hospital? Consider the published quarterly HCAHPS reports that show on average more than 8,400 patients complete this survey daily. This means 3,360 of 8,400 patients do not "Strongly Agree" they understand their care on a daily basis! This startling data that could have a detrimental impact on patient healthcare outcomes. Being admitted to a hospital is a stressful and costly event. The inpatient setting insulates the patient with experts to lead in their specific care. However, when a patient is discharged, the care responsibility ultimately returns back to the patient. It is critical that patients understand their health status and future treatment plan, but 48% of them don't. This poses a significant challenge to outpatient service providers like Specialty Pharmacies that are tasked with maintaining continuity of care. An uninformed or disengaged patient at this stage is in dire need of Patient Experience service recovery. This is where Heritage Biologics offers a solution.
Heritage Biologics recognized that its value as a rare disease Specialty Pharmacy and Home Infusion provider hinged on its effectiveness in collaborative medicine. This fundamental commitment identified an opportunity to lead the charge in developing a first-in-class Pharmacy Patient Experience (RXPX) program. Heritage also recognized that providing preeminent pharmacy services is a major function of the organization, but the primary mission is to provide a Patient Experience that leads to positive health outcomes. Traditional inpatient Patient Experience programs have advanced healthcare in numerous ways. The Heritage Biologics mission builds on those efforts and seamlessly transitions a discharged patient from the PX to the RXPX process. The resulting feedback and insights are then shared across the healthcare divide so that improvements can be made.
HBcares is Heritage Biologic's RXPX program and serves as the "anchor" to their rare care pharmacy culture. Heritage Biologics is the first pharmacy to hire a Vice President of Patient Experience to administer this core business function. Their industry leading model features four key areas that focus on improving healthcare for patients, healthcare providers, payers, and manufacturers.

CONTINUITY OF CARE – An Industry 1st "rarecare" Software Platform (SAAS)
OUTCOMES MANAGEMENT – Healthcare Data / Insights Captured and Compiled to Help Improve Outcomes
COLLABORATIVE MEDICINE – Preeminent Nurses, Pharmacists and Registered Dietitians
PATIENT EXPERIENCE INSIGHTS – 1st HCAHPS Based Pharmacy Survey Technology
The growing emphasis on transitioning patients to outpatient care continues to highlight the ever-increasing importance of dynamic pharmacy services. Heritage Biologics has recognized the need to champion the RXPX movement in the pharmacy space. Most recently, Heritage Biologics launched the RXPX initiative in an effort to partner with outside pharmacies interested in developing their own formal RXPX program. Collaborative patient-centered medicine is a common denominator for all pharmacies.
Sharing best practices across the pharmacy landscape will advance care more rapidly. One of Heritage Biologics founders is a rare disease patient and often reminds the company that everyone is a patient at some point in their lives. It's time for the pharmacy focus on the RX to shift to the PX. This is how Heritage Biologics looks to change healthcare.