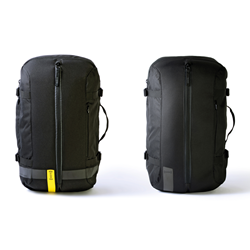 The Swiss Army knife of backpacks
Chur, Switzerland (PRWEB) January 25, 2016
Design and development house Flink GmbH announced the launch of the Kickstarter campaign for their much-anticipated SLICKS Travel System on Tuesday, January 19th, and within 72 hours surpassed the CHF 80,000 (~ USD 80,000) goal needed to begin production of the innovative modular travel backpack. The campaign still has 39 days remaining, continuing till March 4th, 2016.
While the sleek, minimalist design of the backpack has impressed even the most discerning users in its ability to adapt to almost any travel scenario from work to cycling or leisure, the stand-out feature of the bag is the series of removable internal inserts designed to organize and protect clothing and other personal items.
"While we're super pumped," the Kickstarter page update states, "we can't say that we're surprised at the meteoric rise to our Kickstarter victory--and that's not ego talking." The design team credits much of their success to the "eclectic community of commuters, travelers, nomads, gear-geeks and bag-junkies" that tested and reviewed the early production versions of the carry-on backpack.
The travel gear world is abuzz with the arrival of the latest SLICKS bag. Labeled "the Swiss Army knife of backpacks," the backpack has already been featured on leading product discovery platforms such as Product Hunt (with over 300 upvotes) and Gear Patrol. Several travel and product blogs such as A Backpacker's Tale, Brooks Review, TravelPulse and MacTrast have praised the backpack for its "sexy" exterior design and clever series of removable storage inserts.
Backers of the Kickstarter campaign can choose from four configurations of the travel system, starting at CHF 159 (~ USD 159):
● PACK- The base 30-liter backpack: 52 cm x 32 cm x 20 cm, carry-on sized, water-resistant- changes from casual backpack to professional briefcase or trendy messenger bag by tucking away and repositioning straps.
● SUIT- The base backpack with the four-fold Suitcover insert, designed with plastic folding panels covered in nylon and an innovative collapsible hanger to keep a business suit crease-free while packed.
● TRIP- The base backpack with the versatile Tripcover mobile wardrobe for organizing clothes, which in itself contains:

A hanging toiletries bag full of straps and pockets
A waterproof laundry bag that lays flat when not in use
A one-of-a-kind dress shirt folder with a collar protector.
● BIZ- The backpack complete with the full range of insert options.
To view the SLICKS Travel System Kickstarter campaign, visit: http://bit.ly/slickstravel
To read testimonials from early test users, visit: https://slicks.com/testimonials
About Flink: Based in Chur, Switzerland and with satellite office in Taiwan, Flink GmbH is a Red Dot Award-winning design and development firm that specializes in integral product development. Through its partnerships with such innovative companies as Ergon and SKROSS, Flink has earned an impeccable reputation for imaginative, beautiful design and implementation using top-quality materials.