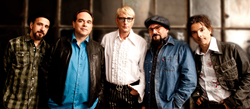 New Brunswick, NJ (PRWEB) September 29, 2016
State Theatre New Jersey presents The Fab Faux on Saturday, October 15, 2016 at 8pm. The Fab Fab performs two sets with Hogshead Horns and Crème Tangerine Strings. The first set will feature songs written by John Lennon for The Beatles and the second set will be songs written by Paul McCartney for The Beatles. Tickets range from $45-$125.
The Fab Faux brings together the talents of five of New York's most respected musicians: Will Lee of Late Show with David Letterman; Jimmy Vivino, band leader and guitarist for Conan; Rich Pagano, who has performed with Rosanne Cash and Ray Davies; Jack Petruzzelli, who has toured and recorded with Joan Osborne, Patti Smith, and Rufus Wainwright; and Frank Agnello, whose musical credits include Phoebe Snow, Marshall Crenshaw, and Joey Molland of Badfinger.
With a commitment to the accurate reproduction of The Beatles' repertoire, The Fab Faux treat the seminal music with unwavering respect, and are known for their painstaking recreations of the songs (with emphasis on the later works never performed live by the Beatles). Far beyond a cover band, they play the music of The Beatles so impeccably that one must experience it to believe it. Imagine hearing complex material like "Strawberry Fields Forever" or "I Am the Walrus" performed in complete part-perfect renditions, or such harmony-driven songs as "Because," "Nowhere Man," and "Paperback Writer," reproduced not only note-for-note, but with extra vocalists to achieve a double-tracked effect.
The musical virtuosity of The Fab Faux—in actuality, five of the hardest working musicians in NYC—completely up-ends the concept of a Beatles tribute band. Far beyond being extended sets of cover versions, their astounding shows are an inspired re-discovery of the Beatles' musical magic, as The Fab Faux tackles the group's most demanding material live onstage in a way that has to be experienced to be believed.
Calling them, "the greatest Beatles cover band— without the wigs," Rolling Stone senior editor David Fricke wrote, "the Faux invigorate the artistry of even the Beatles' most intricate studio masterpieces with top chops and Beatlemaniac glee..." Approaching the songs with the intent of playing them live as accurately in musical reading and in spirit as possible, The Faux's breathtaking performances tend to dispel all concertgoers' previous notions of a Beatles tribute act.
The Fab Faux are a labor of love that was born in 1998 when Will Lee (who's played with all 4 Beatles), bassist for Paul Shaffer's CBS Orchestra on The Late Show With David Letterman, decided that he was determined to organize the greatest Beatles band without any props (sans period wardrobe, fake accents, wigs) and focus on the intricacies and soul of the music. Rounding out the line-up are Jimmy Vivino, Music Director/Guitarist for Conan and longtime music partner of Levon Helm, John Sebastian, Laura Nyro, lead-singing drummer/producer Rich Pagano (Rosanne Cash, Roger Waters, etc.), guitarist Frank Agnello (Marshall Crenshaw, Phoebe Snow, etc.) and multi-instrumentalist Jack Petruzzelli (Joan Osborne [producer, Love And Hate], Patti Smith, etc.). All five principals contribute vocals, making the Faux's soaring harmonies as resonant as their multi-instrumental chops, which are further enhanced on select shows by the four-piece Hogshead Horns (with Blues Brothers, Blood, Sweat & Tears, and SNL band alums) and The Creme Tangerine Strings.
For tickets or more information, call the State Theatre New Jersey Ticket Office at 732-246-SHOW (7469), or visit us online at StateTheatreNJ.org. The State Theatre New Jersey Ticket Office, located at 15 Livingston Ave, New Brunswick NJ, is open Monday through Friday from 10am to 6pm; Saturday from 1pm to 5pm; and at least three hours prior to curtain on performance dates unless otherwise specified. For information on group outings and discounts, call 732-247-7200, ext. 517. Some additional ticket and transaction fees may apply.
State Theatre New Jersey, a premier nonprofit venue for the performing arts and entertainment. The theater exists to enrich people's lives, contribute to a vital urban environment, and build future audiences by presenting the finest performing artists and entertainers and fostering lifetime appreciation for the performing arts through education. The State Theatre's programs are made possible, in part, by funding from the New Jersey State Council on the Arts/Department of State, a Partner Agency of the National Endowment for the Arts, and contributions from numerous corporations, foundations, and individuals. The Heldrich is the official hotel of State Theatre New Jersey. Magic 98.3 is the official radio station of State Theatre New Jersey. The Star-Ledger is the official newspaper of State Theatre New Jersey. United is the official airline of State Theatre New Jersey.
STATE THEATRE NEW JERSEY
15 Livingston Ave
New Brunswick, NJ 08901
Ticket Office - 732-246-SHOW (7469)
Online - StateTheatreNJ.org
PHOTOS AND INTERVIEWS FURNISHED UPON REQUEST
Please contact Kelly Blithe at
732-247-7200, ext. 542 or by email at kblithe@StateTheatreNJ.org.
Up-to-the-minute information on events and State Theatre news,
online at StateTheatreNJ.org.
# # #