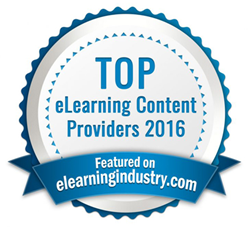 We are honored to earn this recognition from eLearning industry, which is considered a top online resource for e-learning professionals
Hyderabad, India (PRWEB) October 01, 2016
CommLab India has been chosen by eLearning Industry as one of the Top 10 E-learning Content Development Companies in the world. CommLab India has been providing custom e-learning solutions to leading companies across the globe for the last 16 years. Its current distinction, of being one of the Top 10 E-learning service providers, is based on the following criteria:

eLearning Content Development Quality
eLearning Expertise
eLearning Industry Innovation
Customer Reviews
Company's Economic Growth Potential
Customer Retention
Employee Turnover
Company's Social Responsibility
Announcing the list, Christopher Pappas, founder of eLearning industry, writes that the companies that have been selected this year have a genuine passion for learner-centric interactive solutions, customized to the particular needs of their clients.
RK Prasad, CEO & Co-Founder of CommLab India said, "We are honored to earn this recognition from eLearning industry, which is considered a top online resource for e-learning professionals. This only reinforces our commitment towards our clients to provide the best possible service and value proposition to them".
"It has always been our constant endeavor to keep up with the changing business needs. As a result, we have forayed into newer online training formats such as game-based learning, microlearning, video-based learning along with traditional e-learning formats" added Dr. Ayesha Habeeb Omer, COO and Co-Founder of CommLab India.
Apart from custom e-learning solutions, CommLab also provides e-learning translation and localization, LMS hosting and maintenance, and mobile learning options to its customers so that they don't have to deal with multiple vendors. CommLab India has an excellent track record of customer satisfaction and it is therefore not surprising that 70 to 80 percent of its growth each year is from its existing customers.
To learn more about CommLab India, visit their website at http://www.commlabindia.com.
About CommLab India
CommLab India is a global e-learning company that has been providing custom learning solutions to more than 100 organizations in 30+ countries for the last 16 years. Its learning solutions include e-learning courseware development, m-learning solutions, translation of online courses, and hosting and managing training materials on LMS.
CommLab India helps organizations achieve their business goals through just-in-time product knowledge training, ERP implementation trainings, onboarding training, compliance trainings, and more.