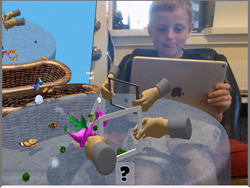 Creatures AR turns our tablets and phones into augmented reality paddles and scoops for magical, interactive worlds.
Sebastopol, California (PRWEB) September 30, 2016
Pantomime Corporation has today launched the Pantomime Creatures AR app for iPads and iPhones, introducing a new kind of augmented reality that provides first person experiences and realistic, multiplayer 3D interaction using mobile devices.
Networked Augmented Reality with Real-Time Physics
Pantomime Creatures AR represents an advance in interactive graphics over the popular Pokémon GO app introduced this July, which shows individual animated characters superimposed over live video as targets for Poké Balls.
Pantomime Creatures AR offers:

real-time 3D — first-person graphics and navigation put users in vivid 3D worlds
realistic physics — users interact with multiple 3D creatures simultaneously by tossing them food and watching them compete for it in the scene, knocking them into a creature collection basket with virtual snowballs, and scooping up and pouring creatures and objects from virtual cups
synchronous multiplayer — users on the same WiFi network can play together, seeing each others' 3D movements in a shared world in real time
3D Interaction Using Mobile Devices
Pantomime Creatures AR provides a unique innovation in augmented reality: The mobile devices we all use become part of the virtual world. The tablet or phone a user is holding in reality appears in the virtual world too, along with animated hands to reflect how the user is handling it. Devices can contact and collide with virtual objects, while their screens become mobile views into the virtual scene.
Portable Augmented Reality
Pantomime worlds are portable. Instead of setting up a special room as in room-scale VR, or going to a specific location as in Pokémon GO, Pantomime users carry a virtual world with them and can play anywhere. Users interact by tipping and turning their devices, walking them across virtual surfaces, grabbing and swinging them as paddles, and using simple screen gestures to move in 3D.
Players Carry Objects and Creatures in Virtual Cups
Pantomime Creatures AR lets users attach a virtual cup to their device to carry creatures and food. Users can fill a cup with food, scoop up creatures from the virtual play surface, and pour out the contents by tipping their device over as they view the scene through it. Thus real devices, interactive objects, and animated characters are seamlessly combined in physically realistic 3D worlds. First person and multiplayer video shows players reaching into virtual worlds, catching flying dragons and other creatures in cups, and cooperating from multiple devices.
Consumer Augmented Reality Gets Real
"Pokémon GO launched a new era where Augmented Reality isn't about costly headsets or vision processing," says Pantomime co-founder and CEO David Levitt. "Now Pantomime Creatures AR lets anyone interact in 3D, turning our phones and tablets into paddles and scoops for magical augmented worlds. Since no new hardware is required, these consumer experiences will continue to be the largest and fastest growing augmented reality markets."
About Pantomime Corporation
Pantomime Corporation, with headquarters in Sebastopol, California, was founded by virtual reality pioneer Dr. David Levitt and Don Hopkins, core developer for the revolutionary app The Sims. The Pantomime Creatures AR app is available today at the App Store.