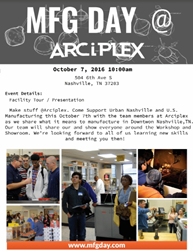 Manufacturing is more than just putting parts together. It's coming up with ideas, testing principles and perfecting the engineering, as well as final assembly. -James Dyson
Nashville, Tennessee (PRWEB) September 30, 2016
In celebration of Manufacturing Day 2016, Arciplex will open its doors on October 7th, 2016 from 10am until 2pm to students, teachers, parents, and those in support of urban manufacturing as part of an effort to change people's perceptions about today's manufacturing environment and draw attention to the outstanding opportunities that a career in manufacturing can provide. Planned activities include facility tours of Arciplex's Workshop and Showroom and demonstrations of how some of their equipment operates.
Manufacturing Day is an annual national event executed at the local level supported by thousands of manufacturers as they host students, teachers, parents, job seekers and other local community members at open houses, plant tours and presentations designed to showcase modern manufacturing technology and careers.
To mark the event, the United States has declared October 7th as national manufacturing day.
Manufacturing Day is co-produced by the Fabricators & Manufacturers Association, International (FMA), the National Association of Manufacturers (NAM), the Manufacturing Institute (MI), and the National Institute of Standards and Technology's (NIST) Hollings Manufacturing Extension Partnership (MEP). Partners include the Science Channel and guest producer, Industrial Strength Marketing, along with event host, Arciplex.
About Arciplex
ARCIPLEX - BRING CREATIVE IDEAS TO LIFE
From our Downtown Nashville Headquarters, we work with entrepreneurs, innovators and established companies to design, develop, and market exciting new concepts. Our diverse skill set and portfolio enable us to design & engineer custom products to the highest quality, all while our team of makers guide through the process of bringing an innovative idea to life. We make creative thinkers more creative. We make creation easier. And we make creativity more marketable.
Event Details
Downtown, Nashville
October 7, 2016 10:00am-2:00pm
More information on Arciplex is available at http://arciplex.com More information on Manufacturing Day is available at http://www.MFGDay.com
Make Stuff @Arciplex. Come support Urban, Nashville, and U.S. Manufacturing this October 7th with the team members at Arciplex as we share what it means to manufacture in Downtown Nashville, TN. Our team will share our experiences, show everyone around the Workshop and Showroom. We're looking forward to all of us learning new skills and meeting you then!
Register and find out more at http://www.mfgday.com/events/2016/arciplex-2