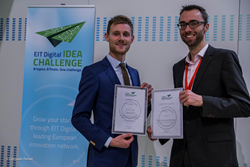 Doing it yourself is a different kettle of fish altogether. EIT Digital has just so much expertise and our business developer was outstanding.
(PRWEB UK) 29 September 2016
The Dutch startup Coblue, winner of the EIT Digital Challenge in 2015 – launches a safe alternative for cloud services where sensitive files can be saved and shared. Instead of storing files on external (cloud) services, organisations can create a network of locations for saving and sharing files themselves with Storro. Storro encrypts files automatically and cuts them in small partitions in order to secure the data.
Storing company information in the cloud is the latest trend. Cloud services like Dropbox, Box or OneDrive have made the storage and the sending of big files very easy. But there are safety risks for this kind of centralised architecture, like data leakages, corporate espionage or even unlawful government surveillance. Basically, for many reasons, companies need to know where their data is stored.
Storro secures the safety risks of saving files in the cloud without sacrificing the ease.
According to co-founder Daniël Weststeijn this is possible thanks to a whole new architecture. "The data are not stored in one central place like cloud services, but are spread throughout the devices people use." It is possible to install Storro in a central place in the company's network. The safety of Storro is independent of the safety of the company's network. Storro encrypts and parts the files. Contrary to cloud services, sensitive files stay always in their own management, so unwanted parties won't have access to the files. Also the application is easy to use, it facilitates sending of large files and revision management is included.
"A number of years ago we foresaw the exponential growth of data leakages at centralised information systems, because these infrastructures are not designed for safety and privacy. A condition for working more safely together on the same files is decentrality. But that is contrary to the current trend of cloud services," says co-founder Yori Kamphuis. The solution and technology behind Storro have received awards from Shell LiveWire, Young Technology Awarded and the EIT Digital Challenge.
"Winning the prestigious EIT Digital Challenge confirmed to us that Storro had value," says Weststeijn. After this he started a coaching and Access to Finance programme with the business developers of EIT Digital, even though the founders themselves have lots of international experience. "Doing it yourself is a different kettle of fish altogether. EIT Digital has just so much expertise and our business developer was outstanding." Storro is currently sold on the Dutch market for now, but is already busy with preparing an international expansion, with the help of EIT Digital business developers. EIT Digital Accelerator is opening doors to markets and funding and is supporting strategies in recruitment, finance and business development.
About EIT Digital
EIT Digital is a leading European open innovation organisation. Our mission is to foster digital technology innovation and entrepreneurial talent for economic growth and quality of life in Europe. We bring together entrepreneurs from a partnership of over 130 top European corporations, SMEs, start-ups, universities and research institutes.
EIT Digital invests in strategic areas to accelerate the market uptake of research-based digital technologies and to bring entrepreneurial talent and leadership to Europe. Our innovation and education activities are organised in and around our co-location centres, where students, researchers, engineers, business developers and entrepreneurs come together to drive the digitalisation of society.
EIT Digital is a Knowledge and Innovation Community of the European Institute of Innovation and Technology (EIT). Since 2010, EIT Digital is consistently mobilising talents, ideas, technologies, investments and business across Europe and beyond to stimulate disruptive digital innovation. The headquarter is in Brussels with co-location centres in Berlin, Eindhoven, London, Helsinki, Paris, Stockholm, Trento, as well as in Budapest and Madrid.
More information about EIT Digital:
http://www.eitdigital.eu/
Follow EIT Digital on Twitter:
@EIT_Digital