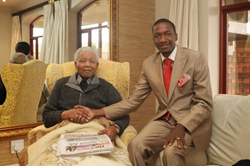 London, United Kingdom (PRWEB UK) 30 September 2016
Uebert Angel, the British businessman, bestselling author and sought-after speaker, has been honoured by Forbes magazine, who have written a feature about his life. Angel, who was born in Africa, is only the second Zimbabwe-born man in history to be featured in the prestigious publication.
A former finance lecturer and financier by profession, Uebert Angel has two degrees from the Salford University in Britain. He also obtained a postgraduate degree at Bolton in Manchester and has a Masters' degree in applied philosophy from the University of Wales in Cardiff. Angel caught their attention as a successful entrepreneur who are creating million-dollar fortunes in Africa. These entrepreneurs do not inherit wealth; they earn it.
His hunger to succeed and eye for the finer things in life inspired his first successful business venture. In 2005, Angel established Club Millionaire, a concierge establishment providing services to the cash-rich but time-poor individuals around the globe. Angel timed the launch of his business well. He set up his company long before the concierge boom flooded the industry in 2102 to secure his fortune.
Angel then ventured into real estate, starting with residential and then moving into developing commercial properties. His real estate construction companies traded under various holdings and trusts in Europe, Africa and Asia.
He then forayed into building a noteworthy media empire, with secular and lifestyle television channels and a record label that owns the rights to the music of multi-award winning artists like Sonnie Badu.
Angel is reputed to have such a keen business sense and entrepreneurial skill that he is able to start small companies and grow them. He then sells them and invests the money in real estate and other projects. Uebert Angel is currently CEO of construction firm Sam Barkley, which has completed over 140 projects and it is creating buildings in cities including Birmingham UK, Johannesburg SA and Dallas US.
As a philanthropist and charity leader Angel has raised and also personally donated millions of dollars to charitable causes. He is also founder of Free Earth Humanitarian Organisation This is a charity devoted towards empowering the most vulnerable and at risk people and help them out of poverty through education and support. As a self-made millionaire, Uebert Angel stands out as a role model to both Zimbabwean and British young people who dream of succeeding in business. Find out more about Uebert Angel on his Wikipedia page.