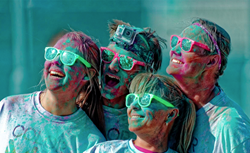 People always come to our events to have fun and spend time with friends and family, but this year brought even more energy and enthusiasm
Salt Lake City, UT (PRWEB) September 30, 2016
Wild racers from Santa Rosa to Philadelphia were splashed with color when Color Me Rad, owned by Sack Lunch Productions Inc. (OTC:SAKL), toured the nation this summer. Forty-two thousand racers participated in multi-colored 5K course in more than 30 locations. Event organizers were thrilled by the response to this year's races and look forward to 2017.
"It is hard to believe the season is already over," said Color Me Rad co-owner John Malfatto. "People always come to our events to have fun and spend time with friends and family, but this year brought even more energy and enthusiasm. We are already excited for 2017."
Color Me Rad's 2016 tour brought plentiful color stations, Goo Guards for phones and an unforgettable finish festival. Participants were also encouraged to "Dare to be Rad" by completing various challenges throughout the 5K course.
The 2017 Color Me Rad calendar is already taking shape. Events are confirmed in locations all over the US and Canada and start as early as February. Locations include San Jose, Eugene, Detroit, Wichita, Jacksonville, Providence, Virginia Beach, Albany, Surrey and Saskatoon.
"Color Me Rad makes running fun again," said Color Me Rad spokeswoman Amy Gessel. "Each year we bring something new to the event to encourage people to get out and stay active."
Event organizers will announce the 2017 theme and additional locations in the upcoming months. Check out http://www.colormerad.com for updates and event details or see what fans have to say on the Color Me Rad Facebook page http://www.facebook.com/colormerad
About Color Me Rad
Since 2012, Color Me Rad, owned by Sack Lunch Productions (OTC: SAKL), has brought a splash of color to cities all over the world. Over 1.5 million participants have experienced the Rad, starting their races as a blank canvas and becoming a multi-colored masterpiece by the finish line. Racers celebrate their accomplishments with the ultimate post-race party. Color Me Rad was created when a group of friends who were inspired by the Holi Festival of India decided to provide a new twist to the age-old sport of running with color, music and a total disregard for the mundane.