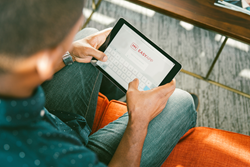 We have an opportunity to create a mortgage experience that the next generation of homebuyers expects.
FORT MILL, S.C. (PRWEB) September 29, 2016
Movement Mortgage has introduced a new digital mortgage platform that promises to simplify the mortgage application process, improve accessibility and transparency, and boost the overall experience for homebuyers.
The Movement Easy App was developed in partnership with Silicon Valley-based Blend Inc., a top FinTech firm backed by leading investors like Peter Thiel's Founders Fund, Andreessen Horowitz, Formation 8 and Lightspeed, among others.
The technology helps users submit a mortgage application from their phone, tablet or computer while securely syncing bank statements, tax returns, payroll data and other data commonly found in mortgage documentation. The app will also connect to systems used by underwriters and processors, which will speed up loan approval times, provide more accurate data and improve closings.
"This is an exciting and revolutionary time for our company and our industry," Movement Mortgage Co-founder and Chief Executive Officer Casey Crawford says. "As part of our mission to be a Movement of Change in our industry, we're working with world-class partners like Blend Labs to build a digital mortgage ecosystem that will ultimately make homeownership more accessible, mortgage processing more accurate and the mortgage industry more transparent.
"We have an opportunity to democratize mortgage lending, and create a mortgage experience that the next generation of homebuyers expects," Crawford says. "The Easy App is our first step toward a digital competitive advantage that allows mortgage lenders with innovative models and their partners with disruptive technologies to move ahead of the largest legacy banks that aren't adapting fast enough."
The Easy App (http://www.movement.com/easyapp) debuts this fall nationwide in all Movement Mortgage markets. All loan officers are expected to offer Easy App by November. The Fort Mill, S.C.-based company now has more than 500 offices in 47 states, with nearly 4,000 employees. Movement will originate more than $12 billion in residential mortgages this year. About 90 percent of those loans are for home purchases, not refinance.
Movement's Easy App was piloted this spring and summer after months of development. Easy App highlights so far include:
More than 2,000 mortgage applications submitted.
Average time to submit an application with documentation is 31 minutes.
About 46 percent of users choose to sync their bank statements.
Customer satisfaction scores average above 90 percent.
"Technology and digitization have raised expectations for how people do everything from working to shopping to banking to communicating with service providers. Getting a mortgage shouldn't be an exception," said Blend CEO and co-founder Nima Ghamsari. "With its new Easy App, Movement Mortgage is delivering a fast, simple, satisfying lending experience that compliments the joy of owning a home, and we're thrilled to be the technology partner helping make that possible."
The Easy App uses bank-grade security and multi-factor authentication to ensure consumer privacy. Users also have access to 24-7 live technical support. Easy App automatically saves work completed by borrowers. It's simple to use, requiring only an email address and password to get started.
Movement Easy App syncs with thousands of banks and credit unions, tax preparers and payroll systems to make sharing financial information easy. Borrowers can also choose not to sync that information, and can choose instead to use their mobile device's camera to upload the necessary documents to Easy App.
Movement's Easy App is the next step in the company's mission to be an agent of innovation in the mortgage industry. With its groundbreaking six-hour upfront underwriting goal and seven-day processing goal, Movement has grown from a startup with four employees in 2008 to one of the largest purchase lenders in the nation. In 2016, Inc. Magazine ranked for the fourth time Movement as one of the fastest growing companies in the U.S.
Easy App will supercharge Movement's overall loan production, shortening the amount of time loan officers have to spend processing, copying and receiving paperwork. It allows them to work outside the office and enjoy more face-to-face interaction with clients.
"There are fewer things more archaic than the mortgage process in America," Crawford says. "This is the right thing to do, and this is the right time to do it."
About Movement Mortgage
Movement Mortgage exists to love and value people by leading a Movement of Change in its industry, corporate culture and communities. Founded in 2008, Movement's vision is to finance one out of every 10 U.S. homebuyers by the year 2025. Movement is known for its customer service-centric business model and innovative loan process, which begins with upfront underwriting and aims to finish the loan process in seven business days. In 2015, Movement originated more than $7.8 billion in residential mortgages and expects to exceed $12 billion in loan originations in 2016. The company has been named an Inc. Magazine fastest-growing company four times, employs nearly 4,000 people and has more than 500 branches in the U.S. The nonprofit Movement Foundation has reinvested more than $16.5 million in communities to date. For more information, visit http://www.movement.com
About Blend
Blend is a Silicon Valley technology company transforming the multi-trillion dollar home mortgage industry. Blend's technology delivers speed and efficiency to lenders, so they can serve the modern borrower and safely navigate the industry's changing rules and regulations. Founded in May 2012, Blend is backed by Peter Thiel, Andreessen Horowitz, Formation 8, Lightspeed, Max Levchin, Hans Morris, and other leading venture investors. To learn more, visit: https://blendlabs.com/