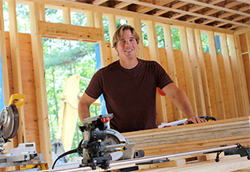 We're building a brand-new shop down at my house.
PARKERSBURG, W. VA. (PRWEB) September 30, 2016
Woodworkers who dream about building the perfect shop will want to tune in "Rough Cut – Woodworking with Tommy Mac" beginning Saturday, October 1, when the seventh season debuts on public television. All 13 episodes will follow Tommy MacDonald as he builds a brand-new shop. For show times, check local listings or visit http://www.thomasjmacdonald.com/stationfinder/.
"Woodcraft is pleased to continue providing funding for season 7 of 'Rough Cut – Woodworking with Tommy Mac' and anticipates that viewers will learn many new skills as they follow Tommy through all the steps to construct a workshop," Vice President for sales and marketing Vince Grlovich said.
In a slightly different format from the first six seasons that each offered 13 episodes featuring individual furniture projects, season seven will deliver its instructional content through the process of planning and constructing Tommy's new workshop from start to finish – foundation to framing to rafters and roofing.
"We're building a brand-new shop down at my house," Tommy said. "That means we're going from the foundation up. It's going to be an oversized garage, and the challenge for us is to bring the entire existing shop (3,500 feet) into our brand-new shop space."
This season, many of Tommy's contractor friends will join the regular "Rough Cut" crew to help Tommy. Before an injury sidelined him and eventually led to his woodworking career, Tommy had finished an apprentice carpentry program and worked as a carpenter for many years.
"It's going to be fun for me to go back to my roots and show you the importance of proper framing, as well how to do the walls, the second floor deck, the rafters, the trim, the windows, and all the exterior siding," Tommy said. "I hope our viewers will get inspired to either convert their own two-car garage or even maybe build a garage."
Tommy has been nominated for 4 Emmy Awards, including Outstanding Lifestyle Show, Best Cinematography and Best Director. He has more than 110,000 Facebook fans and that number is growing. Fans can keep track of Tommy on his website http://www.thomasjmacdonald.com and Facebook http://www.facebook.com/RoughCutTv.
"Rough Cut" is produced by WGBH Boston and distributed by American Public Television. Tommy MacDonald is host. Executive producers are Tommy MacDonald, and Laurie Donnelly for WGBH Lifestyle Productions. Learn more at http://www.wgbh.org. WGBH's television channels include WGBH 2, WGBH 44, and the digital channels World and Create.
For more information about Woodcraft, please contact the store nearest you, visit woodcraft.com or call (800) 535-4482. To learn about Woodcraft franchise opportunities, visit woodcraftfranchise.com or email woodcraftfranchise(at)woodcraft(dot)com.