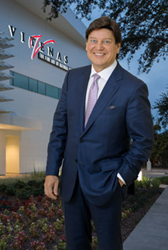 Houston, TX (PRWEB) September 29, 2016
Paul Vitenas, M.D., F.A.C.S., founder of Vitenas Cosmetic Surgery, is honored to say that his practice has hit more than 2000 online reviews. This is an exciting achievement few plastic surgery practices ever accomplish. Not only are the thousands of testimonials a groundbreaking success, Dr. Vitenas holds the most 5 star reviews of any cosmetic surgeon in Texas.
Online reviews provide a vital source of information for patients looking at new practices and procedures. Positive reviews, along with before/after photographs, offer a unique look into a physician's skill, expertise, and style. While these key tidbits of information should be a patient's first step before moving forward to choose a doctor or technique, a large number of comprehensive reviews are required for validity.
Vitenas Cosmetic Surgery has amassed patient reviews across a variety of online resources. These include more than 200 reviews on Facebook, 150 reviews on Google, more than 95 on RealSelf, and 600 on Real Patient Ratings. Testimonials are also available on Dr. Vitenas' website, as well as across his individual procedure pages and microsites.
The reviews cut across a wide span of patient backgrounds and experiences. One recent reviewer on RealSelf said, "Amazing and honest surgeon who will give you his professional opinion . . . while putting your health as first priority." Facebook comments include, "When I pulled up to the facility, I was automatically wowed. It's bright, very clean, very professional. The whole staff was very warm and welcoming." Real Patient Reviews include, "I am absolutely impressed with everything about this doctor and practice! Dr. Vitenas exceeded my expectations and clearly stood out not only on the website, but also in person."
Achieving a prodigious number of patient testimonials takes the entire staff at Vitenas Cosmetic Surgery, pulling together to provide remarkable patient care. Dr. Vitenas has assembled a team of the best nurses, aestheticians, surgical techs, and patient coordinators in Houston, all working towards the same goal of patient comfort and satisfaction. The staff are exceptionally trained, up-to-date with continuing education, and even include several graduates of unique programs such as CoolSculpting University.
A graduate of Tulane Medical School in New Orleans, Dr. Vitenas is board certified by the American Society of Plastic Surgery. Among his many distinguished positions, Dr. Vitenas has served as Chief of Staff at Memorial Southeast Hospital, on the Board of Directors at Memorial Hermann Healthnet Providers and as Assistant Clinical Professor of Plastic Surgery at Tulane Medical Center. Dr. Vitenas is an avid author, frequently published in international medical journals, and consumer beauty magazines such as Allure, Glamour and Self Magazine.
Vitenas Cosmetic Surgery is located in Houston, Texas. Specializing in surgical and noninvasive techniques to restore a youthful, refreshed appearance, Dr. Vitenas brings more than 25 years of experience to each patient. To get more information on Vitenas Cosmetic Surgery, or to schedule a free consultation with Dr. Vitenas, contact the office at 281.484.0088. Take a look at Vitenas Cosmetic Surgery reviews and testimonials at Real Patient Reviews, Facebook, RealSelf, and Google+.