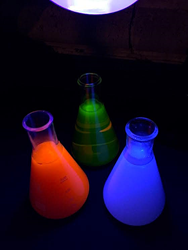 Frost Science celebrates Halloween with 'Spooky Science at Southland Mall'
(PRWEB) September 29, 2016
Get the whole family into the Halloween spirit and celebrate all things spooky as the Patricia and Phillip Frost Museum of Science lights up the night with their "Science in the Dark" outreach show for an interactive demonstration at Southland Mall.
From getting hands-on with their plasma globe, to activating invisible gasses with a Tesla coil, to even demystifying fluorescent liquids and minerals, darkness becomes the perfect lab to explore the mysteries of the night. This spectacular, one-of-a-kind science demo will feature a 10' x 10' tent inside the mall that creates the perfect setting for audience member viewing.
Southland Mall's "Spooky Science at Festive Fridays" night will be Frost Science and Southland Mall's third community outreach event together, after the success of the community unveiling of Frost Science's "Portable Planetarium" and their "Magic Science" and "Freeze It!" showcases earlier this year. Southland Mall is proud to feature Frost Science showcasing their state-of-the-art, interactive activities to the Cutler Bay community, ahead of the museum's official opening in 2017.
"Science in the Dark," presented by Frost Science, will take place at Southland Mall's "Festive Fridays," located in the mall's Center Court, on October 21st, from 6:00 p.m. to 8:00 p.m.
"Festive Fridays" is a free event series open to the public, showcasing the talents of local musicians, dancers, and artists. Southland Mall is conveniently located on U.S. 1 and S.W. 205th Street, off the Florida Turnpike, Exits 11 or 12. For more information on Southland Mall or to learn about partnership opportunities for future "Festive Fridays," please mail inquiries to info(at)bristolpr(dot)com.
About Southland Mall
Southland Mall, located in South Miami-Dade County, Florida, the densest, most populous county in the southeastern portion of the state of Florida, has over 1 million square feet of gross leasable area. Southland Mall is conveniently located on U.S. 1 and SW 205th Street, off the Florida Turnpike, Exits 11 or 12, and is the only enclosed regional mall servicing South Miami-Dade County down to the Florida Keys. Southland houses over 100 specialty stores, including Macy's, Sears, JC Penney, TJ Maxx, Old Navy, Starbucks, a 16-Plex Regal Cinema and diverse Food Court. For more information about Southland Mall, visit mysouthlandmall.com on your mobile device, follow us on Twitter @solandmall, 'Like' us on Facebook at southlandmallmiami, or call (305) 235-8880.
About the Patricia and Phillip Frost Museum of Science (Frost Science)
Frost Science aims to make a difference in people's lives by inspiring them to appreciate the impact that science and technology can have on every facet of our world. The museum will continue to inspire visitors in a new state-of- the-art facility designed by Grimshaw Architects currently under construction at Museum Park, in the heart of downtown Miami. The museum will be structured around a lushly landscaped indoor and outdoor Aquarium of terrestrial and aquatic environments, featuring a Gulf Stream aquarium experience totaling over 500,000 gallons of salt water. The facility will also feature the state-of- the-art full dome Frost Planetarium, the Knight Learning Center, Baptist Health South Florida People and Science Gallery, and the North and West Wings featuring permanent interactive exhibits: Feathers to the Stars and The River of Grass. Frost Science is supported by the Miami-Dade County Department of Cultural Affairs and the Cultural Affairs Council, the Miami-Dade County Mayor and Board of County Commissioners of Miami-Dade County. This project is supported by the Building Better Communities Bond Program and the City of Miami. Sponsored in part by the State of Florida, Department of State, Division of Cultural Affairs, and the Florida Council on Arts and Culture. The museum is accredited by the American Alliance of Museums, is an affiliate of the Smithsonian Institution and a member of the Association of Science and Technology Centers. Learn more at http://frostscience.org.
About Gumberg Asset Management Corp.
Gumberg Asset Management Corp., a diversified real estate retail organization with a tradition of uncompromising integrity and unbeatable performance is the manager of Southland Mall. For further information, visit the Company's website at http://www.gumberg.com.