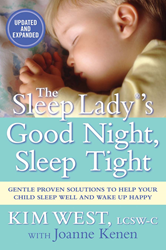 I have been on a mission to provide parents all over the world proven, achievable, Gentle Sleep solutions--where you don't have to let your child cry it out alone.
Annapolis, MD (PRWEB) October 05, 2016
On the Gentle Sleep & Parenting Center website, parents can get their emailed sleep questions answered in 24 hours and a customized sleep plan in 48 hours along with a Gentle Sleep Coach® to coach them through the entire sleep coaching process.
The Gentle Sleep & Parenting Center features three customized sleep tracks, one for babies under 18 weeks, one for babies older than 18 weeks and one for babies with special needs. Each individualized track features multiple programs a parent can choose and factors in a child's temperament, the family's parenting philosophies and each family's unique situation and family life, allowing the Center's Gentle Sleep Coaches to offer customized and responsive support. The Center also offers parenting and potty training consultations.
New parents in particular lose sleep every night, affecting their quality of life and increasing day-to-day frustrations. Leveraging digital technologies and her team of trained Gentle Sleep Coaches, West can now provide parents and other caregivers with help when they need it the most, in the comfort of their own homes and with qualified specialists who are just a few keystrokes away. Each Gentle Sleep Coach has completed an extensive training program created by West, complete with a faculty panel consisting of a two physicians, a psychologist and lactation counselor.
"I developed my more gradual gentle method because I found so many parents had difficulty following through with a cry-it-out program that they fear will damage their child emotionally or fill them with so much guilt they couldn't follow through," West said. "That is why for more than 20 years, I have been on a mission to provide proven, achievable, Gentle Sleep solutions--where you don't have to let your child cry it out alone--to parents everywhere."
Kim West is the author of three books, a mother of two wonderful daughters, and a Licensed Clinical Social Worker who has been a practicing child and family therapist for 24 years. Known as The Sleep Lady® by her clients, over the past twenty years she has helped tens of thousands of tired parents all over the world get a good night's sleep without letting their children cry it out alone.
Kim has appeared on the Dr. Phil, Today Show, NBC Nightly News, Good Morning America, TLC's Bringing Home Baby and CNN, and has been written about in a number of publications including The Wall Street Journal, The Associated Press, Baby Talk, Parenting, The Baltimore Sun, USA Today, The Telegraph, The Irish Independent and The Washington Post.
Kim is the author of three books: "THE SLEEP LADY'S GOOD NIGHT, SLEEP TIGHT: Gentle Proven Solutions to Help Your Child Sleep Well and Wake Up Happy" the "Good Night, Sleep Tight Workbook," and "52 Sleep Secrets for Babies." Her books have sold more than 100,000 copies and have been translated into three additional languages.
Dedicated to providing tired parents with excellent sleep advice and coaching, she started training Gentle Sleep Coaches® all over the world in 2010.