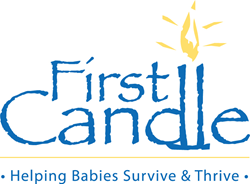 New York, NY (PRWEB) October 03, 2016
Throughout October, in recognition of National Pregnancy and Infant Loss Awareness Month, First Candle—an organization dedicated to preventing SIDS (Sudden Infant Death Syndrome), Stillbirth and miscarriage—has announced a series of initiatives and events to raise awareness.
"Our goal at First Candle is to not only recognize and honor those families who have lost a child to SIDS, Stillbirth or miscarriage, but to build a sense of community and empowerment through working together toward eliminating these tragic losses altogether," says First Candle CEO Alison Jacobson.
After many years of involvement on a volunteer level, Jacobson was named CEO of First Candle in April 2016, something she says brought her full circle from the dark days that followed the death of her son Connor of SIDS in 1997.
"After I lost Connor, I started searching for answers, and I found the First Candle [then the SIDS Alliance] website," Jacobson says. "I immediately found a community of people who would listen, who'd been through it, who were grieving but finding ways to go on. It was an incredible source of support and comfort to me and I'm so honored to lead the organization literally saved my life."
First Candle in October

Safe to Sleep Program for Daycare Providers, West Haven Country Club, October 5th
Sponsored by Boppy, a presentation on the importance of following Safe Sleep guidelines in the daycare setting
A walk over the Brooklyn Bridge to McLaughlin Park for a candlelight vigil
Tree of Hope Dedication, Boston Children's Hospital, October 26th
A permanent tribute to the babies who have been lost to SIDS, and to the research offering hope
Delta Children's Products Crib Donation, Room to Grow, Boston, October 26th
Delta will present 75 free cribs for use by families with babies born into poverty
About First Candle
First Candle is an organization dedicated to preventing SIDS (Sudden Infant Death Syndrome), stillbirth and miscarriage. Through our fundraising and program initiatives, we strive to educate parents, grandparents, daycare providers and other caregivers on safe sleep measures; support researchers; work with nurses and hospitals to educate new parents on safe sleep; and provide support to grieving families. For more information on our Military, Safe Sleep Daycare, Safe Sleep Media Stars, Pregnant and Empowered, and Grandparent Tip Programs, visit http://www.firstcandle.org or follow us @FirstCandle.
Media Contact:
Karen Sackowitz
karen(at)karensackowitz(dot)com
978-697-3845 call or text