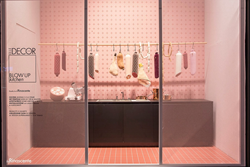 New York City, NY (PRWEB) September 30, 2016
An exceptional showcase for Cesar in Piazza Duomo, Milan!
LaRinascente, which recently received the Best Department Store in the World award, hosts the Blow Up Kitchen & Bathroom project by Elle Decor Italia. Eight shop windows were featured, four for the bathroom and four for the kitchen. The display showcased contemporary homes by means of original window dressing ideas and geometric textures.
Together with seven other important brands in the sector, Cesar has been chosen to participate in this project with its Maxima 2.2 kitchen. The result is a streamlined, linear layout enhanced by the ironic styling of the Elisa Ossino Studio that puts soft fabric "food" in contrast with the solidity of the black Fenix arrangement set off beautifully by the pastel pink pattern in the background.
Aside from being appreciated by the onlookers of Piazza Duomo, these settings will also be included in a photo report that will be published soon in an article where Elle Decor investigates new bathroom and kitchen trends. A great opportunity for Cesar to achieve exceptional visibility while confirming its status as a benchmark partner for kitchen design.