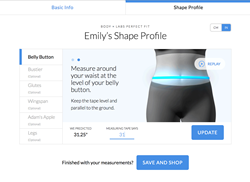 Body Labs Blue can ultimately help apparel retailers reduce the rate of returns, which totals more than $600 billion each year.
New York, New York (PRWEB) September 29, 2016
Body Labs, provider of the world's most advanced technology for analyzing the human body's shape, pose and motion, today announced the release of a new API for Body Labs Blue. The Blue API brings a powerful toolset for developers to further customize it for sizing recommendations. For retailers, Body Labs Blue can ultimately help reduce their sales return rate which, according to the IHL Group, totals more than $600 billion each year.
With Body Labs Blue's new API, developers can now customize the UX and UI of Blue for their business, efficiently integrate customer measurement data into third-party services, or develop on top of Blue's data. APIs will also enable developers to easily build virtual try-on applications and more. The release of the Blue API also allows for third-party integrations by third-party developers and apparel software.
"The Blue API provides a new level of customization for developers and their businesses to offer an improved experience for online shoppers," said Bill O'Farrell, co-founder and CEO of Body Labs. "By unlocking these added customization options, and integrating with leading companies such as Intervisual, we hope to increase customer conversions, reduce returns and build brand loyalty for retailers."
Intervisual's new collaboration with Body Labs aims to provide a more comprehensive shopping experience for online retailers and their customers. It will provide virtual try-on experiences that enable shoppers to see how apparel fits their unique body shape using Body Labs Blue.
"We are excited to partner with Body Labs to enhance Intervisual's visual fit experience," said George Borshukov, founder and CEO of Intervisual. "This enables consumers to see real garments on their real body shape. Consumer testing has shown Intervisual's visual 3D fit solutions are transforming the consumer shopping experience both online and in retail stores."
Body Labs Blue is an embeddable web interface that uses artificial intelligence (AI) and machine learning algorithms to predict 19 highly-accurate measurements from a person's height and weight for custom clothing or sizing recommendations. By using just six-key measurements, Body Labs can deliver sub-centimeter accuracy on average. Body Labs has validated this accuracy by conducting extensive testing to verify the precision and consistency of Blue's predicted measurements.