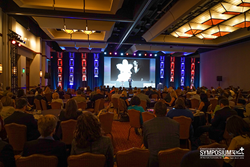 Businesses that expect to compete need more deliberate and strategic ways of attracting, developing and deploying the right people.
(PRWEB) September 29, 2016
Chief Learning Officer magazine wrapped up its CLO Symposium+Plus Tuesday in Scottsdale, Arizona, with attendees and presenters joining to offer real-world solutions to several key workplace challenges. The two-day conference engaged hundreds of senior learning and development professionals, corporate executives and people management experts in lively discussions and community problem-solving centered on the demands of today's highly competitive "talent economy."
"Right now, ideas and innovation are what drive growth, and talent is the fuel. Businesses that expect to compete need more deliberate and strategic ways of attracting, developing and deploying the right people," said Mike Prokopeak, vice president and editor in chief for Human Capital Media, which publishes the magazine. "As a result, the responsibility of the chief learning officer is rapidly evolving beyond what we commonly think of as employee development. For the past two days, we've focused not only on talking about these emerging challenges but also on actually engaging in the kind of collaboration and cross-functional cooperation that create cutting-edge, integrated talent practices within organizations."
According to Prokopeak, CLO Symposium+Plus was reconfigured to transform traditional conference programming into a much more interactive experience. In addition to keynotes from top authors and management thinkers, informative workshops, and a series of fast-paced presentations by innovative learning professionals, the summit also featured a practicum. Participants collectively explored actual case-study based business situations and applied progressive workforce development and talent management solutions to topics such as employee onboarding, leadership succession planning, recruitment processes and building a business case for learning.
CLO Symposium+Plus closed out the event with the 2016 Learning in Practice Awards dinner recognizing industry leaders who have demonstrated excellence in the design and delivery of employee development programs. Capping the evening was a keynote address from the 2015 CLO of the Year, Kimo Kippen, world-wide ambassador for Hilton Hotels. Kimo then introduced our 2016 CLO of the Year, Adri Maisonet from Blue Cross Blue Shield of North Carolina. Congratulations to all of the winners!
Beginning October 24, industry executives who were unable to attend the live CLO Symposium+Plus will have full access to conference programming they missed via Chief Learning Officer's easy-to-navigate Video Library. Sessions can be accessed on demand on any device for 90-days. Registration is available at closymposiumplus.com/videos.
HCM also recently announced preliminary details for the next conference, taking place in Florida, April 24–26 at the Hyatt Regency Coconut Point Resort & Spa in Bonita Springs. For the 2017 CLO Symposium, the magazine's editorial staff is curating an executive-level agenda focused on Learning at the Speed of Business.
For more information about the 2017 CLO Symposium, please visit closymposium.com.