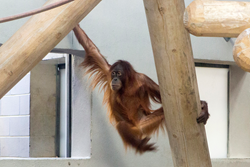 Denver, CO (PRWEB) September 30, 2016
Denver Zoo is thrilled to welcome the arrival of an 8-year-old, female Sumatran orangutan, named Eirina (aye-REE-nah). She arrived from Germany's Zoo Dortmund on Thursday, September 22, after a recommendation of the Association of Zoos and Aquariums' (AZA) Species Survival Plan (SSP), which ensures healthy populations and genetic diversity among zoo animals. Visitors can see her now exploring her new home in the Great Apes building in the Zoo's Primate Panorama.
Zookeepers are still just getting to know Eirina, but can already tell she is very playful and say she loves covering herself with blankets. Born December 30, 2007, she is still relatively young. Eventually, zookeepers hope she will breed with 14-year-old Bernas, (burr-NAHSS), affectionately referred to by Zoo guests and staff as "Junie." The two were introduced over the weekend and are already getting along well. Zookeepers say Eirina offered Bernas treats when they were in adjacent rooms. When the door separating them first opened, Eirina chose to go to Bernas and they greeted each other with a hug.
Orangutan means "person of the forest" in the Malay language and the species is among the closest relatives to humans. Physically they are known for their stout bodies, long arms and shaggy, red hair. The orangutans at Denver Zoo can often be seen showing off their arboreal talents, swinging from ropes and trees in their expansive habitats.
Sumatran orangutans are classified as "critically endangered" by the International Union for Conservation of Nature (IUCN), with a wild population estimated at 14,600 individuals. Only found on the island of Sumatra, in Indonesia, their survival is seriously threated by habitat loss stemming from logging, mining, forest fires and timber clearing for agriculture, including palm oil plantations, and human settlements.