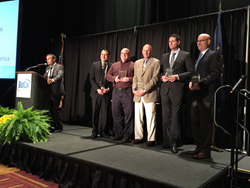 Queens, NY (PRWEB) September 30, 2016
Rosco made their way to Indianapolis last week for the annual BusCon Expo to display the latest enhancements in vehicle safety technology. Rosco featured many well-known products including mirrors, backup cameras, recording cameras and most recently the Mobileye Shield+ Collision Avoidance System. The Shield+ System was named Best New Product at last year's expo and earned Rosco, Mobileye, Pierce Transit and Munich Re the Innovative Solutions award at this year's show.
The Innovative Solutions Award is presented during BusCon annually by Metro Magazine, to companies and agencies who have partnered to implement a new innovation that has helped operations run more effectively and efficiently.
The Shield+ technology, offered by New York State manufacturer, Rosco, Inc., through a partnership with Mobileye, utilizes smart vision cameras in and around the bus designed to prevent collisions between vehicles and vulnerable road users (VRUs), like pedestrians and cyclists. The Mobileye Shield+ System is designed to help drivers and act as their third eye where obstructions cause blind zones around large vehicles. VRUs often are not seen by the bus operator due to blind spots, especially when making turns on busy city streets. Bus operating conditions on congested, urban streets demand the highest level of awareness by the vehicle operator. Shield+ increases awareness and safety for the driver and VRUs around the bus to prevent collisions.
The Shield+ System was featured in the Rosco booth on the Vision Quest bus. The Vision Quest Bus equipped with the Shield+ System, was designed as a mobile "classroom" and demonstration bus to give a firsthand experience of how the Shield+ technology works in a real, urban environment. The bus has toured around the nation including stops at the NYS Capitol Building in Albany, NHTSA and the US Capitol Building in Washington DC, Mcity in Michigan, and many other locations hosting informational sessions and Ride & Drive events, the latest being Columbus, OH for the Smart City winner announcement.
About Rosco, Inc. - Rosco, Inc. is North American's largest bus mirror manufacturer, and a vision safety leader in rearview cameras, automotive windshield based camera recording, rearview interior/exterior mirrors and sun visors in numerous bus, truck, fire, EMS, public safety, specialty, off-road, and military vehicle markets. Founded in Manhattan, New York in 1907 as a safety product manufacturer for automotive and aeronautical markets, Rosco moved to its current location in Queens, New York in 1964. Over 100 years later, the company supplies major OEMs such as Freightliner/Thomas Built Bus, Navistar/IC Bus, Blue Bird, New Flyer, Forest River, REV Group, Morgan Olson, Utilimaster, Pierce and Oshkosh.