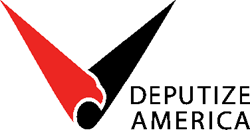 (PRWEB) October 01, 2016
The concerns for personal and public safety have never been higher. Michael Carrigan, Founder of Deputize America said, "It was perfect timing for Robert Caltabiano to retire from the Secret Service and join our team." After 26 years with the Secret Service, Caltabiano knows first-hand the national concerns for public safety and as a family man knows the importance on a personal level.
As Executive Director, Caltabiano brings a wealth of knowledge in what it takes to keep people safe. Having served and protected seven US Presidents, he is eminently qualified to lead an organization dedicated to creating a safer country.
Deputize America was created after the tragic events at Sandy Hook School in December 2012. This incident and others created the question, "How can we make America Safer?"
"Our goal is to use current technology to get people involved in making communities safer," Caltabiano said.
The Deputize America Personal Security APP is due out in November 2016. It allows families to know the exact moment when a family member or friend is in trouble and their precise location. You can respond to their request immediately.
Additionally, Deputize America is mobilizing a nationwide team of committed volunteers called "American Deputies." These background checked individuals are able to respond to calls for assistance generated by APP members. "It's like having an extended family of people willing to help you when you need it most," Caltabiano said. Individuals can pre-register at http://www.DeputizeAmerica.org
During his executive positions with the Secret Service, Caltabiano directed operations for the NY Electronic Crimes Task Force, as well as Protective and Intelligence Operations for the Presidents and numerous Heads of State.
"After meeting and speaking with Michael Carrigan," Caltabiano said. "It became clear to me that, with his vision, we can make a difference and stop many future tragedies".