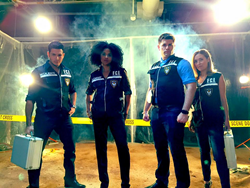 "We film great stories." - Diane Senffner, CEO
Chicago, IL (PRWEB) October 03, 2016
After being selected from hundreds of entries to be featured in the top three videos in the nation, more than 200 training professions in attendance at Buddy Guy's Blues Club in Chicago viewed the productions and voted Cine Learning as the 'best' in the category of video produced by a professional company. The award winning video, produced for University of Phoenix College of Criminal Justice and Security, puts a humorous spin on how TV crime dramas contrast with real life crime scene investigation.
Training Magazine will recognize the achievements this month by featuring links to all award winning videos on their website.
https://trainingmag.com/training-magazine-announces-2016-ttv-winners
Cine Learning Productions CEO, Diane Senffner explained even with a somewhat limited budget, they were able to knock this one out of the park. She said it's not always the most lavishly produced video that takes the prize, but instead those with great actors, scripts, directing and vision.
"I couldn't be more proud of our 1st place TTV," Senffner said. "We tell people our video is the industry's best and now we have the award to prove it! We really don't have a peer when it comes to story or character-based video education. We film great stories. They're realistic, sometimes humorous, sometimes dramatic and always make the learning relatable to the audience."
Cine Learning Productions designs custom, relevant and dynamic video and eLearning that successfully increases overall completion and retention rates. The company develops story-based leadership, soft skill, skill-based, new hire and compliance training for all industries, specializing in blended approaches to content.
For more information, contact Diane Senffner, (888) 303-2159 or visit Cine Learning at http://www.cinelp.com .