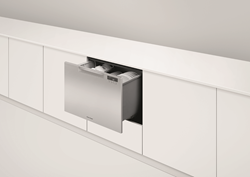 The only DishDrawer to the appliance world has reinvented the way dishes are done since no other machine offers this versatility.
Costa Mesa, Calif. (PRWEB) October 06, 2016
Fisher & Paykel Appliances announces the launch of the latest DishDrawer™ dishwashers. The new models are quieter and more energy and water-efficient than ever, and are even Energy Star-certified. They are more durable, thanks to Fisher & Paykel's rigorous testing for 20 years' continuous use and thoughtfully designed with an emphasis on sleek lines and quality construction. Some models incorporate clever features such as flexible stacking and sanitize mode. The newest generation of DishDrawer™ dishwasher shows Fisher & Paykel's dedication to continuous improvement and innovation behind the world's first and only dishwasher in a drawer.
"The addition of the only DishDrawer to the appliance world has reinvented the way dishes are done since no other machine offers this versatility. DishDrawer is the only product on the market that allows you to wash and load dishes at the same time, easily wash a half load or customize your wash cycles per drawer," states Amanda Glover, Fisher & Paykel North American Product Manager for Dish and Indoor Cooking. "We are proud to offer such flexibility in a product that appeals to a wide range of consumers from those who need to wash rigorously for large families to smaller households that prefer not to wait to fill a full load of dishes. This new DishDrawer design offers an updated modern appearance that seamlessly blends into any kitchen whether installed with custom panels or stainless steel."
Keeping the market on it's toes, the DishDrawer™ breaks all the boundaries for the home by providing versatile dishwashing solutions for every household. The DishDrawer™ has received numerous international accolades and awards including the following in just 2016: Architizer A+ Most Popular Award and Better Homes & Gardens 30 Most Innovative Products.
The Birth and History of the DishDrawer™
When the DishDrawer™ originally launched in 1996 this award-winning appliance had immeasurable impact on the way the world saw the dishwashing market and was featured on the phenomenally popular Oprah Winfrey Show and earned itself a spread in Time Magazine.
That's an impressive journey for a product dreamed up in the back blocks of Mosgiel, New Zealand, by a team of Fisher & Paykel engineers standing in a kitchen talking about the poor design of the dishwasher door. Drawers, they reasoned, were practical and easy to use so why not put a dishwasher in a drawer? They built a mock-up that looked similar to a filing cabinet, a design inspired by a conversation about the changing nature of the kitchen.
Every element of a traditional dishwasher – from the motor to the electronics board to the plumbing system – had to be redesigned. Undaunted, Fisher & Paykel's team got to work, and the world's first and only dishwasher in a drawer was created. This unique dishwasher's appeal was clear. It was easier to use and more flexible – catering from large households to the most compact apartments – than any other product on the market. It offers the only ergonomic solution on the market, when two single drawers are installed on either side of the sink no bending is required for use. It also suits kosher households, where two single DishDrawer™ Dishwashers can be installed to allow for wash loads to be kept separate. Fisher & Paykel's stunned international competitors were left scrambling to catch up.
Two decades down the track, this innovative appliance is in its prime; its original benefits honed and new features added. Over 1.25 million DishDrawer™ Dishwashers have been manufactured and sold in more than 20 countries worldwide. It has cemented its reputation as a design classic, scooped numerous top industry and consumer choice awards, and continued to build global market share.
About Fisher & Paykel
Since 1934, the Fisher & Paykel design heritage has been founded on a pioneering spirit and culture of curiosity that challenges conventional appliance design to consistently deliver products tailored for human needs. Incorporating outstanding performance, and user-focused innovation; Fisher & Paykel and DCS by Fisher & Paykel appliance brands inspire people through indoor/outdoor kitchen and laundry products, designed with real life in mind. The brands incorporate innovative technologies driven from a passion to produce the most technically advanced, efficient, and contemporary styled appliances. As pioneers of the world's first drawer dishwasher, DishDrawer®; Fisher & Paykel continues to pave the way for appliance innovation. Since the 1980's, DCS has defined cooking appliance innovation for the commercial food industry, and designs commercial quality appliances for the home. Fisher & Paykel Appliances is a global company operating in 50 countries, manufacturing in the United States, Mexico, Italy, Thailand and New Zealand. For more information, please visit: http://www.fisherpaykel.com.