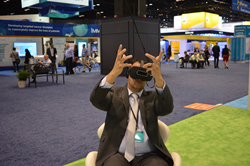 "A well-produced VR experience can be as transformative as learning chemistry in a lab versus reading a textbook"
New York, NY (PRWEB) October 04, 2016
All three ASCO VR installations saw an unprecedented level of engagement by convention visitors, generating constant lines of curious attendees hoping to explore the virtual scientific environments. This success was a result of the PIXACORE team leveraging the latest head-mounted technologies from Oculus and Samsung; creating rich and immersive 3D, 360-degree environments; emphasizing user experience; allowing use of participant's natural hand gestures and gazing; and designing attractive and functional physical booth setups.
Sanjiv Mody, Founder & Chief Executive Officer of PIXACORE, knew they had created compelling VR experiences that would engage physicians, but he was not expecting anything close to the level of involvement that he witnessed at the 3-day oncology conference. "We thought VR would be a draw because of its novelty, but what we didn't expect was that average length of engagement would exceed 8 minutes, and that more than 20% of the attendees would spend more than 12 minutes!" said Mody. In the 10 years Mody has attended various healthcare conferences, he has never witnessed such quantity and quality of engagement—proving that VR, when done right, can be a very powerful interactive medium. "This is an awesome way to learn about complex science," exclaimed a physician after spending 15 minutes in VR interacting with cells using hand gestures.
"Virtual reality has very rapidly shifted from a promising prototype to a viable platform that the healthcare industry will adopt to better understand the science, communicate diseases and therapy options to patients, train medical and industry professionals, and treat certain psychological disorders" declared Mody. "A well-produced VR experience can be as transformative as learning chemistry in a lab versus reading a textbook—it's totally immersive, highly engaging, and interactive—all of which are not possible in any other medium. It's revolutionary. Until you actually try it for yourself, you can't truly grasp the potential and power of VR!"
"We are seeing more and more pharmaceutical and biotech marketers turning to VR to engage their prospects and clients, with the added benefit of significantly improved retention and comprehension of the material presented." Mody said.
PIXACORE recently published a white paper, Virtual Reality: An Introductory Guide to a Game-Changing Medium for Healthcare, that explains VR technology, terminology, and hardware options, all in the context of the healthcare industry. A second white paper, Virtual Reality: An Indispensable Medium for Healthcare Marketers, covers more advanced topics, including examples of VR applications, and potential pitfalls to avoid. Both white papers are free and available for download now at PIXACORE.com/virtual-reality-augmented-reality.
About PIXACORE
PIXACORE is a fully integrated, digital marketing agency focused on the healthcare, biotech, and pharmaceutical industries. With decades of industry experience and specific expertise in the VR and AR (augmented reality) applications, PIXACORE is uniquely positioned to help healthcare brands and organizations evaluate, ideate, design, and create innovative experiences that reenergize and rethink what customer engagement means.
PIXACORE's full-service digital marketing capabilities include: research & insights, strategic & tactical planning, multichannel marketing, digital & social media, search, mobile, UX design, content marketing, relationship marketing, CRM, CLM, experiential marketing, and marketing analytics. Services related to VR/AR development include: experience strategy and design, technology considerations, visual and sound design, intuitive interactions creation, event planning, hardware rental, technical and at-event support, custom app creation, and end-user distribution.
PIXACORE is located in the heart of New York City at 15 West 39th Street, New York, New York. For more information, go to http://www.pixacore.com/virtual-reality-augmented-reality
Contact:
Anisha Mody
646.688.278
MediaRelations(at)pixacore(dot)com
http://www.PIXACORE.com