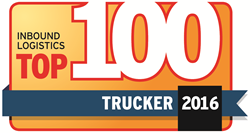 Cherry Hill, N.J. (PRWEB) September 30, 2016
Leading supply chain solutions provider, NFI, has been named to Inbound Logistics Top 100 Truckers 2016 List. The list, published annually by the supply chain publication, provides readers a summary of the best truckers in the industry and the capabilities each has to offer.
NFI delivers a variety of dedicated contract carriage services including, truckload, flatbed, refrigerated, and tanker with its fleet of more than 2,000 tractors and 8,200 trailers. The 3PL provides solutions across a vast number of industries including food & beverage, retail, grocery, and consumer packaged goods. Founded in 1932, NFI has grown to offer extensive supply chain solutions in addition to transportation, such as real estate, warehousing, and global logistics.
"We are proud to make the Top 100 Truckers list," said NFI CEO Sid Brown. "NFI and our drivers take pride in developing personal customer relationships, by truly understanding the customer's needs, and delivering results for them. Trucking was the foundation of NFI and was the platform that helped build our company into a leader in supply chain solutions."
NFI's transportation solution also focuses on sustainability, operating several natural gas fleets. NFI has received the EPA SmartWay Excellence award three times as well as the Advanced Clean Transportation (ACT) Expo Fleet Award for Shippers & Carriers in 2016.
"Inbound Logistics recognizes NFI as a 2016 Top 100 Trucker for consistently providing premium service, reliability, scalability – the watchwords of supply chain professionals who need to provide service to their increasingly demanding customers," said Felecia Stratton, Editor, Inbound Logistics. "Reliable transportation partners such as NFI allow shippers to do more with less, and operate efficiently and cost effectively."
Click here for a complete look at the 2016 Top 100 Truckers List.
# # #
About NFI -- NFI is a fully integrated supply chain solutions provider headquartered in Cherry Hill, N.J. Privately held by the Brown family since its inception in 1932, NFI generates more than $1.2 billion in annual revenue and employs more than 8,000 associates. NFI owns facilities globally and operates 29.5 million square feet of warehouse and distribution space. Its company-owned fleet consists of over 2,000 tractors and 8,200 trailers, operated by more than 2,600 company drivers and 250 owner operators. Its business lines include dedicated transportation, warehousing, intermodal, brokerage, transportation management, global, and real estate services. For more information about NFI, visit http://www.nfiindustries.com or call 1-877-NFI-3777.
About Inbound Logistics -- Inbound Logistics is the leading trade magazine targeted toward business logistics and supply chain managers. The magazine's editorial mission is to help companies of all sizes better manage corporate resources by speeding and reducing inventory and supporting infrastructure, and better matching demand signals to supply lines. More information is available at http://www.inboundlogistics.com.