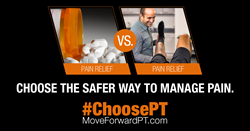 Physical Therapy is a safe and effective alternative to opioids for long-term pain management
(PRWEB) October 03, 2016
The New York Physical Therapy Association (NYPTA) wants to play a key role in combating the opioid epidemic in New York State.
New York State like other states in our country is dealing with the harsh realities of the opioid epidemic. As reported in the New York State Opioid Poisoning, Overdose and Prevention, a 2015 Report to the Governor and NYS Legislature:

10,909,602 Opioid Analgesic Prescriptions were dispensed to patients in 2014.
Opioid analgesic-related deaths increased 30 percent from 2009 to 2013 (from 735 to 952).
Opioid-related emergency department visits increased 73 percent from 2010 to 2014.
75,110 opioid-related inpatient hospital admissions were reported in 2014; an increase of 3 percent from 2010.
118,875, (42 percent) of the 281,800 admissions to NYS certified substance abuse treatment programs in 2014 included "any opioid" as the primary, secondary or tertiary drug problem was up 19 percent (100,004) from 2010.
In March 2016, the Centers for Disease Control and Prevention (CDC) released guidelines urging clinicians to consider opioid therapy "only if expected benefits for both pain and function are anticipated to outweigh the risks to the patient." Before prescribing opioids, providers are encouraged to check that non-opioid therapies have been tried and optimized. In cases when opioids are prescribed, providers are encouraged to "start low and go slow" with dosing and to combine with non-drug approaches like physical therapy. Cancer treatment, palliative care, end-of-life care, and certain acute care situations are cited as cases in which properly dosed opioid therapy may be appropriate.
"Physical therapy helps patients work through pain and return to their daily routines without the risk of addiction. I encourage patients to explore this option during their recoveries. Opioid addiction often stems from long-term use of pain medication and that's why this year we passed a comprehensive plan in the State Legislature and signed into law to deal with these devastating addiction issues. Doctors may only first prescribe an opioid for a seven day period, and must take training on opioids every three years. I commend the NY Physical Therapy Association for reaching out to patients to help them through their pain in a positive way," said Senator Diane Savino (D-SI/Brooklyn).
The NYPTA wants to send a strong message to people dealing with chronic pain who may be considering opioid treatment. Opioids only mask the sensation of pain. Opioid side effects include depression, overdose, addiction, and withdrawal symptoms. Opioid effectiveness for long-term pain management is inconclusive in many cases. Physical Therapy is a safe alternative to opioids for pain management.
Michael Costello, PT, DSc, OCS, MTC, explains that "Physical Therapists are experts in non-invasive pain management strategies, and are at the forefront of researching novel interventions which utilize a bio-psycho-social approach. There is a growing body of evidence that cognitive-behavioral techniques, including Therapeutic Neuroscience Education, can have a positive effect on pain, disability, and physical performance in individuals with a variety of painful conditions. Exercise is also a safe and effective technique for people with such challenging conditions as low back or neck pain, osteoarthritis, and Fibromyalgia. Physical Therapists are well-positioned to provide these interventions in an efficacious and cost-effective manner," said Costello.
We are pleased that our national organization, the American Physical Therapy Association (APTA) in June 2016, launched a public education campaign, #ChoosePT, to raise awareness among patients and prescribers about physical therapy as a safe alternative for pain management.
People who are experiencing pain can learn more about the benefits of physical therapy as a safe, effective alternative to opioids by visiting http://www.MoveForwardPT.com/ChoosePT.
###
About the NYPTA
The NYPTA (http://www.nypta.org) has the proud heritage as the genesis of the American Physical Therapy Association (APTA) in New York City in 1921. The NYPTA is currently the second largest chapter of the APTA, with over 6,000 members who are physical therapists, physical therapist assistants and students. The mission of the NYPTA is to empower and support its members in advancing the practice and profession of physical therapy through advocacy, education and research.
About the APTA
The APTA (http://www.apta.org) is a national organization representing more than 93,000 physical therapists, physical therapist assistants, and students nationwide. Its goal is to foster advancements in physical therapist education, practice, and research.