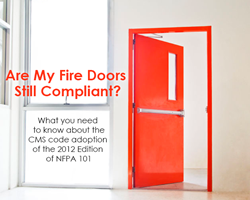 This impacts the life safety code and gives fire door compliance new meaning.
Livermore, CA (PRWEB) October 10, 2016
On July 1, 2016 a new code change took effect that put many facilities in danger of not passing their next fire door inspection. We all know that fire door inspections must be done annually, however the 2012 NFPA 101 codes require that it is documented and ready to present to an inspector.
For healthcare facilities, this impacts the life safety code and gives fire door compliance new meaning. Fire door inspectors now require detailed documentation of all points of the inspection.
Requirements are as follows: As a minimum, the following items shall be verified:
-No open holes or breaks exist in surfaces of either the door or frame.
-Glazing, vision light frames, and glazing beads are intact and securely fastened in place, if so equipped.
-The door, frame, hinges, hardware, and noncombustible threshold are secured, aligned, and in working order with no visible signs of damage.
-No parts are missing or broken.
-Door clearances do not exceed clearances listed in 4.8.4 and 6.3.1.7.
-The self-closing device is operational; that is, the active door completely closes when operated from the full open position.
-If a coordinator is installed, the inactive leaf closes before the active leaf.
-Latching hardware operates and secures the door when it is in the closed position.
-Auxiliary hardware items that interfere or prohibit operation are not installed on the door or frame.
-No field modifications to the door assembly have been performed that void the label.
-Gasketing and edge seals, where required, are inspected to verify their presence and integrity.
Annual fire door inspections can be complex and should be completed by a qualified inspector. It is imperative that there is proper documentation of each point.
PREVENT is the original fire barrier maintenance company and prides themselves on keeping customers compliant.
Learn more about PREVENT's Fire Door Inspection & Repair Services or Request a Quote.