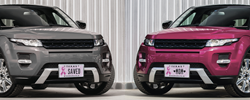 An official Pink Ribbon plate allows you to show your support all year round
Austin, Texas (PRWEB) October 01, 2016
Most people nowadays are aware that October is Breast Cancer Awareness Month and as a result, we see a lot of Pink Ribbons displayed during this time of year.
Unfortunately, the risks and impact of breast cancer are not limited to a single month of the year. Breast Cancer doesn't discriminate: it is a disease that can and does strike at any time, and effects people regardless of race or gender.
An estimated 246,660 new cases of invasive breast cancer are expected to be diagnosed in women in the U.S., along with 61,000 new cases of non-invasive (in situ) breast cancer. About 1 in 8 U.S. women (about 12%) will develop invasive breast cancer over the course of her lifetime. In men, it is estimated that about 2,600 new cases of invasive breast cancer are expected to be diagnosed in 2016. (Source:breastcancer.org)
Over six years ago, in May 2010, My Plates launched the very first official Breast Cancer Pink Ribbon license plate in Texas. Since then, a portion of the proceeds from the sale of every Pink Ribbon plate sold supports the National Breast Cancer Foundation headquartered in Frisco, Texas. By purchasing one of these plates, you not only support the fight against this disease from a monetary sense, but you also support it by promoting the Pink Ribbon not just in October, but 24/7, 365 days a year.
During Breast Cancer Awareness Month, My Plates will donate $10 to the National Breast Cancer Foundation for every "Pink" plate sold, which includes two official Pink Ribbon plate designs, plus four other pink-themed plates.
While sales of all pink-themed My Plates designs will generate a positive donation in October, My Plates encourages the purchase of an official Pink Ribbon plate. "A Pink Ribbon license plate not only brings awareness to Breast Cancer but it helps us show support and strength for Breast Cancer survivors, patients and their families all year round" said Steve Farrar, President of My Plates.
The official Pink Ribbon plates in Texas can be purchased directly online at MyPlates.com.
____________________________________________________________
Pink License Plate Facts:

My Plates offers six pink plates including two Pink Ribbon designs.
Over 17,000 pink license plates have been sold in Texas.
Texas areas that have the most Pink license plates?

League City (Houston, TX) with 169
Spring with 132
Katy with 122
Frisco with 118
*Sales data sourced from MyPlates.com: Sales from November 2009 to August 31st, 2016.
____________________________________________________________
My Plates designs and markets new specialty license plates as a vendor for the Texas Department of Motor Vehicles. Texans have bought more than 290,000 My Plates since November 2009, putting more than $45M in the state general revenue fund. My Plates' goal is to create a long-term, mutually beneficial relationship designed to maximize revenues for the state through the sale of My Plates specialty plates. http://www.myplates.com.
The Texas Department of Motor Vehicles (TxDMV) serves protects and advances the citizens and industries in the state with quality motor vehicle related services. For every $1 it spends, the TxDMV returns $11 to the state. The agency currently registers 24 million vehicles; issues more than 7 million vehicle titles; licenses more than 38,000 motor vehicle dealers and distributors; credentials nearly 60,000 motor carriers; issues more than 800,000 oversize/overweight permits; investigates more than 15,000 complaints against dealers and motor carriers; and awards grants to law enforcement agencies to reduce vehicle burglaries and thefts. Learn more at http://www.TxDMV.gov.
____________________________________________________________
Breast cancer statistics source: http://www.breastcancer.org/symptoms/understand_bc/statistics
Image Downloads:
Hero Image – two cars: https://ce9a9387e1bc258c3cfa-af7906f4e771b24864bbfa3048e4a635.ssl.cf2.rackcdn.com/PR_Image.jpg
MOM plate: https://ce9a9387e1bc258c3cfa-af7906f4e771b24864bbfa3048e4a635.ssl.cf2.rackcdn.com/BC_Mom.jpg
SAVED plate: https://ce9a9387e1bc258c3cfa-af7906f4e771b24864bbfa3048e4a635.ssl.cf2.rackcdn.com/BC_Saved.jpg
ONE IN 8 plate: https://ce9a9387e1bc258c3cfa-af7906f4e771b24864bbfa3048e4a635.ssl.cf2.rackcdn.com/BC_OneIn8.jpg