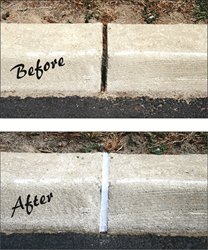 ENECON Corporation announces a major advancement of expansion joint repair
Medford, NY (PRWEB) October 04, 2016
ENECON Corporation announces a major advancement of expansion joint repair with the release of its FLEXICLAD® PC and FLEXICLAD® LC, two-component, polyaspartic-based elastomeric sealants for use in vertical or horizontal expansion joints and construction joints in concrete, brick, stone, wood and metal surfaces.
FLEXICLAD® PC is a non-sagging sealant for vertical or overhead joints that can be applied by troweling. FLEXICLAD® LC is a self-leveling sealant for horizontal joints that can be applied by pouring or pumping. These products show very good chemical resistance and are excellent for sealing between dissimilar materials which may expand and contract at different rates.
These unique materials require no primer and can stretch to over 600% making them the ideal choice where countless freeze/thaw cycles cause conventional caulks to fail prematurely. Their adhesion to concrete is greater than the cohesive strength of the concrete and over 1,300 psi to steel (ASTM D-1002).
The outstanding performance of FLEXICLAD® PC and FLEXICLAD® LC allows today's maintenance professional to extend the service life of yesterday's buildings and structures.
For more information about FLEXICLAD® PC and FLEXICLAD® LC visit http://www.enecon.com/applications/expansion-joint-repair/ or for more information about the complete line of polymer solutions from ENECON® call 888-436-3266 or visit the company's website at http://www.enecon.com.