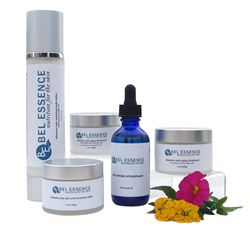 I could have been a poster child for a cautionary tale of what happens to neglected skin in a high-stress lifestyle, but even over just two weeks... I could not gush more about this cream and what it has done for me.
Philadelphia, PA (PRWEB) October 03, 2016
Bel Essence is a natural skin care collection with a difference. Based on a simple idea, Bel Essence gives skin the nutrition it needs to heal, regenerate and rejuvenate itself, combining ingredients just as nature manufactures them to give the full benefits of each ingredient. Advice abounds about the importance of good nutrition for good health. Healthy skin benefits from good nutrition as well. Sun, pollution, climate, smoking – all of these can dull and damage skin, and harsh soaps and cleansers, make-up, chemical treatments, can also have a detrimental effect.
Bel Essence combines natural and organic oils that are the richest sources of vitamins, antioxidants, omega 3's and fatty acids, the essential components for healthy, youthful skin at any age. Bel Essence gives skin what nature intended and selects and combines oils with beneficial properties to maximize results without harmful chemicals and colorings. Natural oils, such as grapeseed, argan, avocado, almond, hemp, borage, castor, sesame, coconut and shea, known for their skin health benefits, are combined to treat and nourish skin giving both instant improvement and long term transformation.
Bel Essence expands its menu of products with the launch of an anti-aging and moisturizing cream formulated for oily and breakout prone skin, and an intensive hydrating cream for severe dry skin and eczema relief. To celebrate the rebranding of the popular products and website, Bel Essence is offering special "grand reopening" discount using the code GRANDOPEN20 at checkout. Subscribers to the mailing list will enjoy special offers and discounts throughout the year, and be the first to discover new product launches.
Bel Essence enjoys a 4+ star rating and has been certified cruelty free by the Coalition for Consumer Information on Cosmetics (leapingbunny.org). Upcoming events include a Cruelty Free Christmas, donating a portion of sales during the holiday shopping season to animal rescue organizations working to end cruelty. Bel Essence is the sponsor of Moda 360, an art, fashion and film event in April 2017 at The New Mart in Downtown Los Angeles, featuring international independent designers, artists and filmmakers in exhibits and live events.