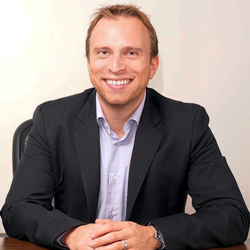 Marketing initiatives are only as good as the results they bring.- Alex Melen
Englewood Cliffs, New Jersey (PRWEB) October 04, 2016
SmartSites' Alex Melen will be a featured speaker at this year's annual HostingCon Europe. Europe's Premier conference and trade show for cloud, domains, and hosting businesses is set to have its 2016 conference in less than one month. The ever-exciting forum, hosted by information services company Penton, is now in its third year. At inception in 2014, HostingCon Europe had 425 attendees; it now boasts over 1,000 attendees signed up to participate in the two-day slew of events.
This year's show in Amsterdam will include a variety of countries and businesses. 2015 saw top dogs such as Verizon, Ricoh, Dell, and Deloitte as both speakers and audience members. The expectation is for 2016 to include even more high-profile Fortune 500s added to the forum. The trade show targets professionals that appreciate a 'vendor-neutral environment'. Members interact with intentions of learning about issues, trends, and legislation bound to affect businesses of all industries, technology or not.
The impressive lineup of speakers for 2016 includes SmartSites' very own Co-CEO, Alex Melen. Melen founded his first company, T35 Hosting, in 1997 and in 2011 Co-Founded SmartSites, a full service digital marketing agency. On a daily basis, Melen fields the essential conundrum: How do I get more sales? Digital marketing strategies, online initiatives, and flashy websites are great, but how does it translate into better business for me? As the Paid Search Guru at SmartSites, Melen's main focus is determining how digital strategies integrate with web hosting and cloud software to translate into sales for his clients.
Melen will headline his own session within the Building Business Track, entitled "Marketing in a Cut-Throat Industry." The lecture will cover how to leverage marketing tools and initiatives to bring about the most significant ROI for any industry. How one creates a funnel to generate new customers, and how those new customers bring increased revenue for businesses and individuals will be the main points of focus.
The lecture will also discuss the burgeoning trends that both the technology and general marketing sectors tend to interface with. Topics will include the trends we currently see in the digital space, as well as the trends expected to arise in the near future. Additionally, Melen will explain how tracking and analysis of results can help business owners capitalize on success. Data and information are only as good as the the improved results they help bring about.
Finally, Melen will address the trifecta solution that yields success for marketers in whatever cut-throat industry they operate. A balanced combination of 3 media outlets is what makes for the most proportionally aggressive marketing strategy. The first is paid search advertising; the second is search engine optimization (PPC's organic sister); and the third is social media, the necessary evil that is often overlooked, but has a significant amount of potential waiting to be implemented. Melen will explain how utilizing all three yields the most successful return for clients, and why using an external marketing agency may be to one's advantage in certain circumstances.
To ask Alex about the conference, or learn more about how SmartSites' markets for their clients in some of the world's most cut-throat industries, visit SmartSites.com or call 201-870-6000.