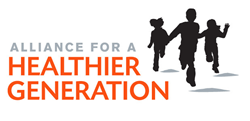 Washington, DC (PRWEB) September 30, 2016
The Alliance for a Healthier Generation has awarded its 2016 Healthier Generation Corporate Hero award to NIKE, Inc. for its commitment to helping kids develop active habits by supporting physical activity and sports in schools.
Nike's previously announced $50 million commitment to get kids active in the U.S. is having an impact. Through Let's Move! Active Schools, a partner program to the Alliance's Healthy Schools Program, Nike has helped more than 10 million children to get moving.
"By leveraging its worldwide brand to get kids moving, Nike is creating real, measurable change," says Dr. Howell Wechsler, CEO of the Alliance for a Healthier Generation. "It's a powerful example of the impact one company can have on the health of millions of young people."
As part of the annual recognition of America's Healthiest Schools, the Alliance recognizes the enormous role that companies like Nike can play in improving the health of our nation's children by demonstrating:

Extraordinary effort to be part of the solution to the physical inactivity epidemic;
Industry leadership in promoting evidenced-based public health solutions;
Innovation in creating and fostering positive change on behalf of children's health.
"At Nike, we believe in the power of sport to move the world and unleash the potential of every kid," says Jorge Casimiro, Vice President of Global Community Impact at NIKE,Inc. "We know that active kids do better in every way and that's why we're proud to work with partners like the Alliance for a Healthier Generation and Let's Move! Active Schools to get millions of America's schoolkids moving – running, jumping, and kicking towards happier, healthier and more successful lives."
Nike will receive the award at the Alliance's annual awards ceremony recognizing America's Healthiest Schools in Washington, D.C. on September 30th. To learn more about Nike's award and view the complete list of America's Healthiest Schools visit http://www.healthiergeneration.org.
###
About the Alliance for a Healthier Generation
The Alliance for a Healthier Generation, founded by the American Heart Association and the Clinton Foundation, empowers kids to develop lifelong, healthy habits, by ensuring the environments that surround them provide and promote good health. Get involved at HealthierGeneration.org.