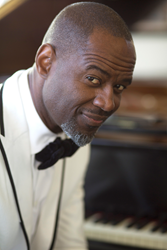 New Brunswick, NJ (PRWEB) September 29, 2016
State Theatre New Jersey presents singer, songwriter, and producer, Brian McKnight on Friday, October 21, 2016 at 8pm. McKnight's hits include "Back at One," "Anytime," "One Last Cry," "Let Me Love You," and "My Kind of Girl." Tickets range from $35-$85.
Brian McKnight has released 16 albums to date, with several going platinum two and three times, and he has sold over 30 million albums worldwide. In addition to being a singer, songwriter, and producer, McKnight is also a talented and charismatic personality who has hosted Soul Session Countdown with Brian McKnight on BETJ. In addition, "The Brian McKnight Morning Show" on KTWV the Wave Smooth Jazz radio station, was a Top 5 rated show 2 years running. In 2009, McKnight started hosting his own radio show "The Brian McKnight Show" which ran in over 60 markets and was syndicated through ABC Radio. Brian also hosted his own nationally syndicated TV show The Brian McKnight Show which was syndicated in over 200 markets.
McKnight has also used his vast industry knowledge as a red carpet host for Extra!. In 2007, McKnight stepped into Broadway with a successful run as Billy Flynn in Chicago. He was also a contestant on the Donald Trump hit show Celebrity Apprentice and is toured nationwide in 2009 in the play Cheaper to Keep Her with Vivica A. Fox. Born in Buffalo, New York, McKnight's musical career began in childhood when he became a member of his church NY choir and a bandleader for his high school, Sweet Home High School. By the age of 19, he signed his first recording deal with Mercury Records. In 1992, his self-titled album Brian McKnight was released followed by I Remember You (1995) and Anytime (1997). Anytime sold over two million copies and was nominated for a Grammy®. In 1999, McKnight released Back at One on Motown Records, which sold over three million copies. During his career, McKnight has worked with Quincy Jones, Justin Timberlake, Mariah Carey, Diddy, Christina Aguilera, Rascal Flatts, Nelly, Vanessa Williams, Willie Nelson, and Kenny G.
Along with 16 Grammy® nominations, Brian McKnight has been the recipient of American Music Awards, Soul Train Awards, NAACP Image and Blockbuster Awards, and Billboard Songwriter of The Year. He has successfully navigated the boundaries of EVERY entertainment medium in an industry that is known for its revolving door of artists.
This performance is underwritten by Sherard and Naomi Murphy.
For tickets or more information, call the State Theatre New Jersey Ticket Office at 732-246-SHOW (7469), or visit us online at StateTheatreNJ.org. The State Theatre New Jersey Ticket Office, located at 15 Livingston Ave, New Brunswick NJ, is open Monday through Friday from 10am to 6pm; Saturday from 1pm to 5pm; and at least three hours prior to curtain on performance dates unless otherwise specified. For information on group outings and discounts, call 732-247-7200, ext. 517. Some additional ticket and transaction fees may apply.
State Theatre New Jersey—creating extraordinary experiences through the power of live performance. The theater exists to enrich people's lives, contribute to a vital urban environment, and build future audiences by presenting the finest performing artists and entertainers and fostering lifetime appreciation for the performing arts through education. The State Theatre's programs are made possible, in part, by funding from the New Jersey State Council on the Arts/Department of State, a Partner Agency of the National Endowment for the Arts, and contributions from numerous corporations, foundations, and individuals. The Heldrich is the official hotel of State Theatre New Jersey. Magic 98.3 is the official radio station of State Theatre New Jersey. The Star-Ledger is the official newspaper of State Theatre New Jersey. United is the official airline of State Theatre New Jersey.
STATE THEATRE NEW JERSEY
15 Livingston Ave
New Brunswick, NJ 08901
Ticket Office - 732-246-SHOW (7469)
Online - StateTheatreNJ.org
PHOTOS AND INTERVIEWS FURNISHED UPON REQUEST
Please contact Kelly Blithe at
732-247-7200, ext. 542 or by email at kblithe(at)StateTheatreNJ(dot)org.
Up-to-the-minute information on events and State Theatre news,
online at StateTheatreNJ.org.
# # #