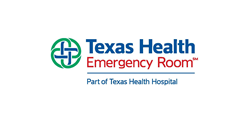 Dallas, TX (PRWEB) September 30, 2016
Texas Health Resources, one of the county's largest non-profit health systems, opened its first freestanding emergency room in Lake Highlands at 7 am today. The new facility is located at 10705 E. Northwest Hwy., Dallas, TX 75238 and is open 24-7.
"We are pleased to expand our footprint in the North Texas community and provide the residents of Lake Highlands with quality, convenient care close to home," said Dr. Lawrence Chien, Facility Medical Director of Texas Health Emergency Room Lake Highlands.
To celebrate the opening, Texas Health Emergency Room hosted a ribbon cutting ceremony with the Lake Highlands Chamber of Commerce and made a $5,000 donation to Lake Highlands High School. Following the ribbon cutting, Texas Health Emergency Room hosted a medical community open house.
Different from urgent care centers, Texas Health Emergency Room facilities are open 24 hours a day, 7 days per week, and are staffed exclusively with board-certified emergency physicians and emergency trained registered nurses. The facilities are equipped with a full radiology suite, including CT scanner, Digital X-ray, Ultrasound, as well as on-site laboratories certified by the Clinical Laboratory Improvements Amendments (CLIA) and accredited by the Commission on Office Laboratories Accreditation (COLA).
To learn more about Texas Health Emergency Room and the new Lake Highlands facility, please visit https://texashealthemergencyroom.com/locations/dallas-map/lake-highlands/.
###
About Texas Health Resources
Texas Health Resources is one of the largest faith-based, nonprofit health systems in the United States. The health system includes 25 acute-care and short-stay hospitals that are owned, operated, joint-ventured or affiliated with Texas Health Resources. It includes the Texas Health Presbyterian, Texas Health Arlington Memorial, Texas Health Harris Methodist and Texas Health Huguley Hospitals, Texas Health Physicians Group, outpatient facilities, behavioral health and home health, preventive and fitness services, and an organization for medical research and education. For the last two years, Texas Health Resources has been named as a Fortune 100 Best Companies to Work For and the #1 Best Company to Work For in Healthcare. For more information about Texas Health Resources, call 1-877-THR-WELL, or visit http://www.TexasHealth.org.
About Adeptus Health Inc.
Adeptus Health (NYSE:ADPT) is a leading patient-centered healthcare organization expanding access to the highest quality emergency medical care through its network of freestanding emergency rooms and partnerships with premier healthcare providers. Adeptus Health owns and operates First Choice Emergency Room, the nation's largest and oldest network of freestanding emergency rooms and owns and/or operates hospitals and freestanding facilities in partnership with Texas Health Resources in Texas, UCHealth in Colorado, Dignity Health in Arizona, Ochsner Health System in Louisiana and Mount Carmel Health System in Ohio. All Adeptus Health freestanding facilities are fully equipped emergency rooms with a complete radiology suite of diagnostic technology, on-site laboratory, and staffed with board-certified physicians and emergency trained registered nurses. For the last three years, Adeptus Health has exceeded the 95th percentile in patient satisfaction according to patient feedback collected nationwide by Press Ganey Associates Inc. Adeptus Health also was named a 2016 Best Workplaces in Healthcare by Great Place to Work® and Fortune Magazine. For more information please visit adhc.com.