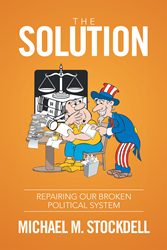 We should look for solutions not because they are desirable but because they are practical.
CHARLOTTE, N.C. (PRWEB) October 03, 2016
With the 2016 presidential election happening in November, citizens and politicians are actively seeking solutions for the current state of affairs. Michael Stockdell analyzes the broken state of American politics and offers a starting point for a revised political platform in his new book, "The Solution."
Stockdell spent years researching politics and considering viewpoints from both sides of the political spectrum. The result is his new book, "The Solution," in which Stockdell leaves behind ideology and advocates for a smaller government and a less intrusive political system.
"The country is split between those who believe in big government and those who view it as a stumbling block to the Capitalist system," Stockdell said. "There is no compromise between the views and to reverse this bind in Washington requires altering the U.S Constitution to restore the Founders' vision."
As an autodidact with a cataloging memory allowing him to retain much of what he has learned, Stockell has both a creative and analytical intellect. He has written three novels and one memoir. Furthermore, Stockdell spent three years working for the federal government and turned his attention to politics in 2005.
"The Solution proposes a complete political system, deeply thought out but passionately expressed," Stockdell said. "We should look for solutions not because they are desirable but because they are practical."
For more information, visit http://www.stockdellmichael.com
The Solution
By Michael Stockdell
ISBN: 9781524508173
Available in softcover, hardcover, e-book
Available on Amazon, Barnes & Noble and Xlibris
About the author
Michael M. Stockdell was born in Richmond, Va. and graduated from the University of Virginia with a B.A. in English. He has written a large number of poems, short stories and two novels. Stockdell has worked as a systems analyst, data processing manager and management consultant, including three years in the federal government. Stockdell is married and currently resides in Columbia, S.C.
# # #
For review copies or interview requests, contact:
Jake Doll
317.602.7137
jdoll(at)bohlsengroup(dot)com