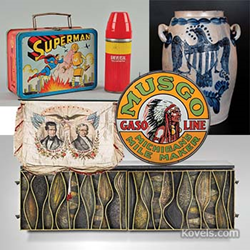 Cleveland, Ohio (PRWEB) October 05, 2016
The all-new Kovels on Antiques & Collectibles Price Guide 2017 has just hit bookstores. With over 590 pages, the book is filled with 25,000 actual prices and 2,500 pictures of antiques and collectibles from real auctions, shows, shops and flea markets during the past year, as well as tips and other useful information.
Most pieces listed in Kovels' price guide cost less than $2,000. But record prices for antiques and collectibles make news every year, and Kovels' reports many of those, too. It's nice to dream that Grandma's vase could be worth a fortune. Here are some of the rarest and the best record price items from this past year as reported in Kovels' Antiques & Collectibles Price Guide 2017.
1. $167,700 was the winning price for a metal gas station sign advertising "Musgo Gasoline – Michigan's Mile Maker" with a portrait of an Indian in full headdress, 48 inches in diameter.
2. An E. Howard & Co. No. 43 clock: $254,000. The 105-inch-high regulator clock has reverse painted glass, astronomical dial, sweep minute hand and a carved walnut case.
3. A Paul Evans cabinet: $287,500. It is made of welded polychrome steel, painted wood and slate, with 23K gold leaf.
4. Chandelier by glass artist Dale Chihuly: $200,000. It was made of white, clear and amber blown glass in 2004.
5. Superman lunchbox: $20,400. It has the original Universal thermos.
6. An American stoneware water cooler: $483,000. It is decorated with a cobalt blue eagle and shield and attributed to Henry Remmey, Sr. or Jr., of Baltimore, 1812-1829.
7. Babe Ruth's 1922 New York Yankees contract: $549,000.
8. Hermès Birkin handbag: $300,168. It is made of white matte Himalayan crocodile leather with 18K white gold and diamond hardware.
9. $185,000 was paid for an 1844 double-sided political banner with color portraits of presidential candidate James K. Polk and his running mate George M. Dallas.
10. Märklin toy train tunnel: $84,000. It's a 13- by 29-inch mountainscape with chalets, an overlook and a castle turret on top, made 1910-1914.
More record prices can be found in Kovels' Antiques & Collectibles Price Guide 2017 available now at KovelsOnlineStore and bookstores.
About Kovels.com
Kovels.com, created by Terry Kovel and Kim Kovel, provides collectors and researchers with up-to-date and accurate information on antiques and collectibles. The company was founded in 1953 by Terry Kovel and her late husband, Ralph. Since then, Kovels' Antiques has written some of America's most popular books and articles about collecting, including the best-selling Kovels' Antiques and Collectibles Price Guide, now in its 49th edition. The website, Kovels.com, online since 1998, offers more than 1 million free prices, and includes a free weekly email, Kovels Komments. It gives readers a bird's-eye view of the market through the latest news, auction reports, a Marks Dictionary, readers' questions and answers, and much more.
Contact Information:
Liz Lillis
216.752.2252
Pr(at)kovels(dot)com