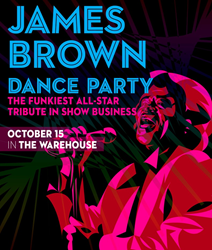 Fairfield, CT (PRWEB) September 29, 2016
James Brown fans will not want to miss the latest installation of The James Brown Dance Party that's coming to the northeast this October. This conceptual supergroup combines members of The James Brown Band with younger, more contemporary artists from bands like Lettuce, Galactic, and Snarky Puppy to pay homage to, the one and only, James Brown.
The shows have been full-blown ragers, leaving fans in a cold sweat.
Born from the minds of The Chase Brothers, The James Brown Dance Party took flight in 2015 and has quickly become one of the nation's most popular events as it travels with a rotating cast of all-star musicians from coast to coast. The lineups for October feature members of The James Brown Band, Charles Bradley Band, Wilson Pickett Band, Rubblebucket, Antibalas, LCD Soundsystem, Jazz Is PHSH, The Chase Brothers, The Bridge and more. The party is fronted by American Idol's Elise Testone and will include special guest performer Chuck Jones from Dopapod in Fairfield, CT on October 16.
The James Brown Dance Party
Elise Testone (American Idol)
Matthew Chase (The Chase Brothers)
Adam Dotson (Rubblebucket, Slavic Soul Party)
Carter Yasutake (LCD Soundsystem, David Byrne & St. Vincent)
Morgan Price (Antibalas, Charles Bradley)
Freekbass (Bootsy Collins, The Original JB's)
Adam Chase (Jazz Is PHSH)
To learn more about this special performance, or to purchase tickets, please contact Fairfield Theatre Company or visit fairfieldtheatre.org.
About Fairfield Theatre Company:
Fairfield Theatre Company is a highly-acclaimed non-profit performing arts organization located in the heart of downtown Fairfield. FTC presents over 300 concerts and events each year featuring outstanding national talent at FTC's StageOne and at The Warehouse. FTC's venues are widely recognized as being the best places to see live performances in the region. FTC's mission is to connect and enrich our community through the transforming power of the arts.