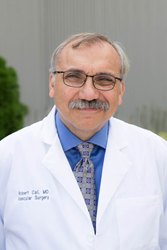 (PRWEB) September 30, 2016
The Center for Vein Restoration (CVR), the nation's largest, physician-led, vein treatment medical organization, is proud to announce its expansion to Muskegon, MI. CVR's newest location is now accepting patients at 837 Seminole Road, Suite 204, Norton Shores, MI 49411.
CVR names Dr. Robert Cali as practicing physician at this new location.
"Treating patients with venous insufficiency is very rewarding because of the benefits both symptomatically and cosmetically." Dr. Cali continues, "I enjoy taking as much time as my patients need in both the explanation and treatment of their problems as it's as important to me as it is to them."
ABOUT ROBERT CALI, MD.

Graduated from SUNY Upstate Medical University in 1976.
Completed Residency and Fellowship at the Cleveland Clinic in 1984.
Board Certified Vascular and Critical Care Surgeon.
Active surgeon and committee member at many respectable facilities including: Mercy Health, Metro Hospital and Spectrum Health Medical Group.
Passionate author and presenter to over 10 scientific publications and presentations.
Active contributor to several societies including: Society for Critical Care Medicine, Kent County Medical Society, Midwest Vascular Surgical Society, American Medical Association, Michigan State Medical Society, Peripheral Vascular Surgical Society, Michigan Vascular Society and Fellow American College of Surgeons
ABOUT VENOUS INSUFFICIENCY
Venous insufficiency, the cause of varicose veins and spider veins, indiscriminately affects between 30–40 million Americans. Numerous factors including age, weight, prolonged sitting or standing, genetics or a history of DVT (blood clots) can increase the risk of developing this all-­to­common and often underdiagnosed disorder. Treatment options range from lifestyle changes like exercising or taking regular breaks from prolonged sitting or standing to an array of minimally-­invasive, outpatient procedures that close problem veins, redirecting blood flow to healthier ones.
ABOUT CENTER FOR VEIN RESTORATION
Having performed its first procedure in 2007 under President and CEO Dr. Sanjiv Lakhanpal, Center for Vein Restoration (CVR) has since become a nationally recognized leader in the treatment of varicose and spider veins. Dedicated to relieving leg pain, treating the vascular cause of severe leg wounds, and eliminating unsightly veins, CVR's minimally invasive procedures allow patients to look better, feel better, and live better. With 65 locations and counting, they have assembled the most qualified and experienced team of physicians, researchers, and staff to serve patients across Alabama, Indiana, Maryland, Virginia, Connecticut, Michigan, New Jersey, New York, Pennsylvania, and Washington, DC.
For more information, visit http://www.centerforvein.com. You may also contact Nicole McMillan at nicole(dot)mcmillan(at)centerforvein(dot)com or 240-965-3277.