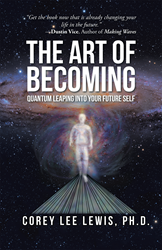 You can quantum leap to your future self through meditation...
ARCATA, Calif. (PRWEB) October 03, 2016
Everyone wants to find happiness and become his or her best self. Unfortunately, few people know how to take the steps necessary to make it happen.
In the new book, "The Art of Becoming," life coach Corey Lee Lewis, Ph.D, shares the secret to fulfilling a life's purpose. In order to become the man he was meant to be, Lewis practices a technique, called quantum leaping, that sends him forward in time to meet and learn from his future self.
"You can quantum leap to your future self through meditation and learn how to be now who you want to become in physical form in your daily life," Lewis said.
Lewis began developing his technique after a dark period in his life in which he went through a divorce, the death of his brother from cancer, and the death of his best friend from a drug overdose. Feeling lost, broken, and in desperate need of healing, Lewis found the direction and guidance he needed from his older self by falling into deep hypnotic states and transforming his thoughts.
Lewis used quantum leaping to leave a 20-year career in higher education and find his true calling: personal and professional development coaching. Through his classes, seminars, and private coaching, Dr. Lewis has taught these techniques to thousands of people, helping them maximize their potential and live the lives they were meant to live.
"Everything that happens in life, especially the bad stuff, is a gift," Lewis said. "When you stop resisting that which you perceive as bad and embrace it fully, then the truth of its gift will be clear to you."
For more information, visit http://theartofbecomingbook.com/.
"The Art of Becoming"
By Corey Lee Lewis, Ph.D.
ISBN: 978-1-50435-957-3
Available in softcover, hardcover, and e-book
Available on Amazon, Barnes & Noble and Balboa Press
About the author
Dr. Corey Lewis is the founder of MindBody Mastery Coaching. He is also a Tae Kwon Do master, holding a seventh-dan black belt, and a licensed master practitioner of neuro-linguistic programming and hypnotherapy. As a life coach, author, and speaker, Dr. Lewis has helped thousands of people transform their personal and professional lives and become the person of their dreams.
# # #
**FOR IMMEDIATE RELEASE**
For review copies or interview requests, contact:
Jake Doll
317.602.7137
JDoll(at)Bohlsengroup(dot)com