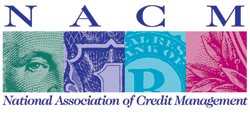 The most significant improvement was in dollar amount beyond terms (46.3 to 48.2), which suggests more customers are paying within terms.
Columbia, MD (PRWEB) September 30, 2016
The September report of the Credit Managers' Index (CMI) from the National Association of Credit Management (NACM) recovered from its August dip, bringing it in line with a combined score seen in July.
The CMI's combined score moved from 52.0 to 53.7. "This month may be an anomaly, but we certainly hope not," said NACM Economist Chris Kuehl, Ph.D. "The best news is that the gains were seen primarily in the favorable categories." In August, the combined score for the index of favorable factors fell to levels not seen since December 2015; in September, however, it rose to 59.5 from 56.4, month-on-month.
Dollar collections made a strong recovery as it returned to July's number of 59.5, up four points from August. Sales and new credit applications also rebounded well, 53.7 to 57.9 and 56.7 to 58.6, respectively, and amount of credit extended improved further as it went from 59.7 to 61.9.
Even though the index of unfavorable factors improved slightly as it shifted from 49.1 to 49.9, some categories continue to drag down the whole index. Overall, most of the categories held close to the numbers reflected in August. The most significant improvement was in dollar amount beyond terms (46.3 to 48.2), which suggests more customers are paying within terms. And although rejections of credit applications stayed roughly the same (51.6 to 51.3), "it's actually pretty good news," Kuehl said, because of the increase in applications.
"It is hoped that this data is a harbinger of things to come, but after the last few months of intense gyrations, there is certainly no guarantee," Kuehl shared. "The business community as a whole has been cautious and uneasy and has not been eager to make commitments for the future. That has been affecting the CMI, but now there is some sense that decisions will be made in the not distant future." Most of the progress can be attributed to the manufacturing sector, he added. "Service is lagging for now and at this point it may be a couple of months before there is a reversal."
For a complete breakdown of the manufacturing and service sector data and graphics, view the September 2016 report at http://web.nacm.org/CMI/PDF/CMIcurrent.pdf. CMI archives may also be viewed on NACM's website at http://www.nacm.org/cmi/cmi-archive.html.
ABOUT THE NATIONAL ASSOCIATION OF CREDIT MANAGEMENT
NACM, headquartered in Columbia, MD, supports more than 15,000 business credit and financial professionals worldwide with premier industry services, tools and information. NACM and its network of affiliated associations are the leading resource for credit and financial management information, education, products and services designed to improve the management of business credit and accounts receivable. NACM's collective voice has influenced federal legislative policy results concerning commercial business and trade credit to our nation's policy makers for more than 100 years, and continues to play an active part in legislative issues pertaining to business credit and corporate bankruptcy. NACM's annual Credit Congress & Exposition conference is the largest gathering of credit professionals in the world.