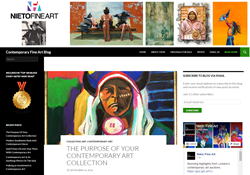 Our social media marketing team strives to put our clients' offerings front and center to their audience. ~ Ken O'Donnell, SEO Pro.pro President
Castro Valley, CA (PRWEB) September 30, 2016
Nieto Fine Art, an online contemporary art gallery featuring the works of Native American artist John Nieto, was recently named one of the "Top 100 Art Blogs Every Artist Must Read" by Feedspot. This honor put the gallery in the company of many reputable and up and coming artists as well as several museum blogs from around the country.
"This is one of many types of brand awareness we want for our clients," stated Ken O'Donnell, the digtal marketing agency's President. "Our social media marketing team strives to put our clients' offerings front and center to their current and prospective audience."
Working with SEO Pro.pro, Nieto Fine Arts wanted to expand upon its social media strategy. Once the strategy was put into place, the online marketing company executed the tactics which included blogs that fit with the gallery's goals. After a few months of implementing the updated approach, the virtual art gallery received a notification from Feedspot about its inclusion in the top 100 list.
About SEO Pro.pro
Based in the San Francisco Bay Area, SEO Pro.pro by KO Websites, Inc. is a full-service digital marketing agency specializing in social media, PPC, SEO, and responsive website design. The agency works with clients across a broad range of industries to drive website traffic, increase brand awareness, and generate leads. For more information, please visit their website at http://www.seopro.pro.