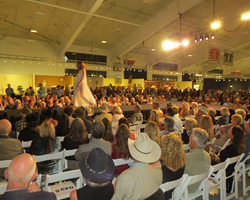 Buyers need to see, touch, and feel art that doesn't hang on a wall.
Jackson Hole, Wyoming (PRWEB) September 30, 2016
The 24th Western Design Conference (WDC Exhibit + Sale) held September 8-11, 2016, in Jackson Hole, Wyoming, at the Snow King Center was an enormous success with large attendance numbers and exhibitors experiencing record-breaking sales. Artists from six different states won the top honors at this year's event, with the WDC and its sponsors distributing a total of $19,100 in cash awards.
This year, more than 1,000 guests attended the sold-out Thursday night Opening Preview Party where exhibitors wowed the crowd and judges, as did couture designers with the always entertaining live runway fashion show. With over 130 artists showcasing and selling their handcrafted pieces, the Western Design Conference continues to be the world's premier event for displaying Western-inspired contemporary craft.
Award winners this year include artist Jenny Booth of J Booth Art from Burlington, Wyoming, who won Best in Show for her antler candelabra. Fashion designers Sandra and Lee Liggett of Whispirit from Sandia Park, New Mexico, took the award for Best Artist in the Art to Wear Fashion category with Margaret Sullivan, represented by Cayuse Western Americana of Jackson, Wyoming, winning Best Artist in Art to Wear Jewelry.
Michael Guli of River Crossing Inc. from Bellvue, Colorado, won for Best Artist in the leather category with his buffalo coat, and Glenn Gilmore of Hamilton, Montana, with Gilmore Architectural Blacksmith Studios won Best Artist in the metal category. Ron Benoit of Woodensound Fine Woodworking in Preston, Idaho, won Best Artist in Woodworking and Gary Moser of The Welded Donkey in Phoenix, Arizona, won Best Artist in Mixed Media. For a complete listing of this year's winners, go to: http://www.westerndesignconference.com/awards/.
"The Western Design Conference gives us a big stage on which to show our art," says Sandra Liggett, of award-winning wearable fabric and fashion house Whispirit. High-end fine furniture maker Robert Seliger agrees. "Buyers need to see, touch, and feel art that doesn't hang on a wall, and the WDC gets my work directly in front of these buyers," he says. "We sold everything we brought to the show, and took orders for commissioned pieces that will keep us busy well into 2017."
This year's Designer Show House was also a huge attraction as guests explored six professionally designed rooms created by designers from all around the country. The contemporary façade built by B & B Builders of Rigby, Idaho, was a centrally located focal point of the Exhibit + Sale. The Designer Show House provides WDC guests the opportunity to interact directly with the individual designers and explore custom interior designs. The DSH was sponsored by Deanna Briggs of REMAX / Obsidian Real Estate, presented by Mountain Living and featured Agnes Bourne Designs, Christopher Kennedy Inc., Harker Design, Forsyth & Brown, Kibler & Kirch and Alley Modern + More. The DSH aligns interior designers with the public by providing a creative venue that helps prospective design clients better understand how to integrate one-of-a-kind objects into beautifully designed spaces.
About the Western Design Conference:
The 24th annual Western Design Conference Exhibit + Sale is a four-day, multimillion-dollar event that brings together craftspeople, collectors, interior designers, architects and fashion designers with a love of the West. The Western Design Conference was founded 24 years ago in Cody, Wyoming, as a way to promote contemporary artists working in historical American craft methods. The WDC moved to Jackson in 2007. Allison Merritt, who purchased the WDC in 2014, after seven years acting as event manager, continues the strong commitment to Western arts in Wyoming while expanding the reach of the show. From documented American craft to home design to couture fashion, the show encompasses all aspects of the best of Western design. Additional information on the WDC, including schedules and tickets, is available at http://www.westerndesignconference.com and on Facebook and Twitter @WesternDesign.
Media Contact: Amy Stark, Word PR + Marketing, amy(at)wordprmarketing(dot)com, 307.734.5335