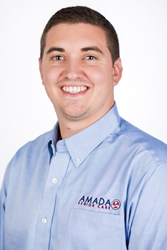 We will help you find the best solution for your unique situation.
St. George, Utah (PRWEB) October 03, 2016
Amada Senior Care, premier provider of non-medical in-home care and assisted living placement counseling, recently opened its newest office that will serve the Southern Utah region. Owner and CEO Craig Tippets has a background working with seniors in assisted living communities. The grand opening of Amada Southern Utah will be held on Tuesday, October 4th.
Amada provides in-home caregivers to help seniors with non-medical activities of daily living. "Some of our services include dressing, bathing, meal preparation, light housekeeping, and medication reminders ¬– things that help you age in your home as long as possible." Craig said. In situations where a senior's care needs no longer allow them to stay at home, Amada also offers senior housing advisory services - a form of counseling that helps seniors find the best assisted living environment for their unique situation.
Amada Southern Utah also helps seniors and their families navigate the process of funding the care they need. "Many families worry about how they will pay for care," Craig said. "At Amada, we are experts at that. Whether it's a long-term care insurance policy, veteran's benefits, or a life insurance policy, we will help you find the best solution for your unique situation."
While working in an assisted-living community, Craig built meaningful relationships with the elderly residents, many of whom referred to him as their grandson. "That always meant a lot to me because I was very close to my grandma growing up. She lived with us for 20 years, and we were best friends," Craig said. "Because of those experiences, I'm really excited to work with senior citizens and help you and your loved ones during what can be difficult years."
The grand opening of Amada Senior Care Southern Utah will take place on Tuesday, October 4th. The office is currently looking for qualified full and part-time caregivers to work with their clients. For more information, you can visit their website at http://www.AmadaSouthernUtah.com or call 435-248-0800.
About Amada Senior Care
Amada Senior Care is committed to enriching lives. We provide nurturing, compassionate non-medical in-home care and guide families through the many senior housing options available for assisted living. We also offer expertise in handling long-term care insurance claims and in certain forms of government aid, including Veterans Aid and Attendance Benefits. Headquartered in San Clemente, California, Amada was founded in 2007, and is currently assembling an elite team of franchise partners to expand our business on the national level. For more information, visit amadaseniorcare.com.