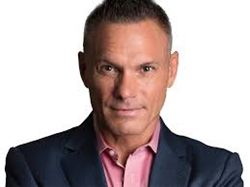 What I propose is a radical and new alternative for the business world that is a trilogy of relational behaviors—Cooperation, Collaboration and Co-creation
Los Angeles, CA (PRWEB) September 30, 2016
Cal Net Technology Group announced today that Kevin Harrington will be featured as the Keynote Speaker for OktoberTEK 2016. OktoberTEK is Cal Net Technology Group's largest event of the year and will take place on October 26th, from 10:00am – 4:00pm at the Skirball Cultural Center in Los Angeles, CA. It is a free seminar offering business executives and IT professionals the opportunity to gain valuable insights from industry thought leaders and learn about emerging technologies.
Harrington, an Original Shark on ABC's SHARK TANK, Inventor of the Infomercial, and a pioneer of the "As Seen On TV" Industry, has launched over 500 products resulting in more than $5 Billion in sales worldwide. At OktoberTEK 2016, Harrington will be speaking about fostering this Culture of Corporate Innovation and Intrapreneurship to help business owners and executives accelerate their business.
As a "Disruption Leader", Kevin introduces corporations and organizations to comprehensive strategies that will help them leverage their #1 innovation asset – their employees. Corporations, Organizations and Universities who have experienced the power of Fostering a Culture Innovation and Intrapreneurship realized it is a market differentiator in both retaining top talent and being able to surge ahead of their competitors. AT&T, Pfizer, Concur Technologies and Microsoft are just a few of the corporations who have directly benefited from Kevin's game-changing approach to collaborative innovation. Kevin believes that innovation is everyone's job and that empowering the intrapreneurial spirit in a team will give companies the lead on their competition.
"What I propose is a radical and new alternative for the business world that is a trilogy of relational behaviors—Cooperation, Collaboration and Co-creation," says Harrington. "It's a new relational value system that takes the focus off of pure compensation and forces companies to think, act and operate differently."
"We are excited to partner with Kevin in this effort, as he's truly interested in providing valuable advice to business owners and executives on how they can leverage a Culture of Corporate Innovation and Intrapreneurship to accelerate their business." States James Hwang, CEO of Cal Net, "Our theme for OktoberTEK this year is Innovation for Acceleration, because we support this same principle. As an innovator in our industry, Cal Net Technology Group is also on a mission to cultivate this culture of innovation to empower businesses with the technology they need to grow in an efficient, sustainable and profitable way. It is Cal Net's goal to disrupt the market with enterprise-class technology services made available and affordable for all small to medium-sized businesses."
This year's OktoberTEK event will be a business seminar and technology expo rolled into one, where guests will have the opportunity to gain business insights from Kevin Harrington and also gain technology knowledge from Cal Net's experts and industry-leading partners, including HP, Microsoft, ShoreTel, Pivot3, Laserfiche, Dell, Tegile, SonicWALL and more. Registration is now open, visit http://www.oktobertek.com for more information on the event.
About Cal Net Technology Group
Cal Net Technology Group is the premier provider of outsourced IT, cloud, security services and unified communications in the Southern California market, servicing organizations with 10-2000 employees. Through its implementation and support services, Cal Net excels in tackling the complexities of partially and fully outsourced IT, voice systems implementation and support services with both onsite and remote delivery models.
Cal Net has been named Regional Partner of the Year by Microsoft four years in a row, Dell Security Partner of the Year for 2015, and has been recognized as IT Service Partner of the Year by the Los Angeles Business Journal. In addition, Cal Net has been named one of the top 50 Managed Services Provider in North America by the MSPMentor 501 List, is a CRN MSP Elite and Fast-Growth 150 list member, and is a eight-time Inc. 5000 honoree.
Businesses interested in IT support or services can contact Cal Net Technology Group at (866) 999-2638, info(at)calnettech(dot)com or visit http://www.CalNetTech.com.
Please follow Cal Net Technology Group on Facebook, Twitter and Google+.
About Kevin Harrington
Kevin Harrington has been a successful entrepreneur over the last 40 years. He is an Original Shark on the ABC hit, Emmy-winning TV show, "Shark Tank." He is also the Inventor of the Infomercial, As Seen On TV Pioneer, Co- Founder of the Electronic Retailers Association (ERA) and one of the founding board members of the Entrepreneurs' Organization (EO). Kevin has launched over 20 businesses that have grown to over $100 million in sales each, has been involved in more than a dozen public companies, and has launched over 500 products generating more than $5 billion in sales worldwide.
In 2015, Kevin launched his Culture of Corporate Innovation and Intrapreneurship venture, as a "Disruption Leader" he introduces corporations to comprehensive strategies that will help them leverage their #1 asset – their employees. Disruptive Leadership is about fostering a culture of game changing innovation that provides the framework and motivation to generate those ideas and execute those solutions. Kevin's belief is that the accelerating speed of innovation demands a new approach to innovation leadership - a new way of fostering counterintuitive ideas, forcing improbable insights and opening minds to uncomfortable solutions. This is an essential skill for any business leader and their employees, from a small start-up to a global corporation, with the desire to transform organizational processes and behaviors.
# # #
Contact: Laryssa Mereszczak
Tel: 818-721-4342
Email: lmereszczak(at)calnettech(dot)com
http://www.CalNetTech.com
Media Contact: marketing(at)calnettech(dot)com