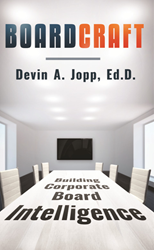 "As people, we work to improve our intelligence by pushing ourselves to learn new things; so too can boards of directors"
Reston, VA (PRWEB) September 30, 2016
The general public often hears in the news about corporations that fail and others that become widely successful. The business world normally focuses on the role of the CEO, but it is the corporate board of directors that often plays a critical role in the performance of an organization.
Devin Jopp, author of the book, "Boardcraft: Building Corporate Board Intelligence", says, "As people, we work to improve our intelligence by pushing ourselves to learn new things; so too can boards of directors". When individuals form together as a board of directors, the group as a whole becomes larger than any individual member. This collective intelligence is known as Corporate Board Intelligence (CB-IQ). Seven elements of corporate board intelligence include:
1) Recruitment Stagnation: inability of a board to fully understand what kind of skills, knowledge and personalities they need to advance the organization;
2) Power Imbalance: over-delegation by the full board of power and decision making to committees and sub-committees, thus losing touch with organizational performance;
3) Network Misalignment: failure to understand how the informal relationships among board members influences how things really get done on the board;
4) Accountability Inadequacy: lack of measurable board-level outcomes or over-delegation of responsibility to the CEO;
5) Innovation Deficiency: fear of experimentation or inability to explore new ideas and concepts, resulting in a loss of market share or market opportunity;
6) Environmental Maladaptation: tendency of boards to fall out of touch with their environments (external or internal) or stick with existing strategies even though market conditions have changed;
7) Influence Impotence: limited connectedness by board members with potential customers, investors or business relationships that can enhance corporate performance.
Great organizations are led by great boards of directors. Through deliberate action, boards can improve their collective intelligence and help fuel the organization's growth that they serve.
Dr. Devin Jopp is the author of "Boardcraft: Building Corporate Board Intelligence" (http://www.futurefocusleadership.com). Dr. Jopp is a governance and strategy expert dedicated to helping organizations reach their full potential. As a former CEO, COO and CIO; he now serves as a strategic advisor to corporate boards and executives.