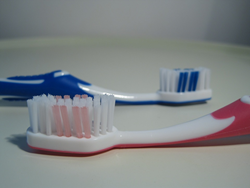 A better strategy is to maintain an ongoing program of preventive dental care that includes contact with dental professionals.
West Hills, California (PRWEB) October 07, 2016
A September 28 article on Good Housekeeping provides a list of five "sneaky" signs of dental problems that could lead to more serious issues. Medical Center Dental Care, an oral health clinic based in West Hills, California, notes that while the public definitely should address such telltale signs as persistent halitosis (bad breath), bleeding gums, or lingering sores or spots by contacting a dentist, a better strategy is to maintain an ongoing program of preventive dental care that includes contact with dental professionals. Specifically, it's important to make sure that a preventive dental care regimen includes the following features:
1. Regular Dental Teeth Cleanings and Check-Ups. Medical Center Dental Care notes that, even when individuals maintain a reasonably good home oral health regimen, plaque and tarter still build up on the teeth and only a professional teeth cleaning can prevent issues related to these materials from cropping up eventually. Moreover, the signs of emerging dental problems are often far less obvious than the persistent bad breath or bleeding gums mentioned above; it takes a look from a skilled dental professional to prevent often all but imperceptible minor issues from turning into much larger problems through a lack of care, the dental office adds.
2. Access to a variety of dental professionals. Medical Center Dental Care notes that dental issues come in many flavors, and so do dental patients. Children, for example, may require a different approach that adult patients; concerns about the alignment of teeth in teens and adults are typically best handled by a specialist in orthodontia; such issues as removing wisdom teeth or adding dental implants call for the skills of an experienced oral surgeon; and root canals are often best performed by endodontic specialists. The dental clinic notes that its staff includes a skilled general and cosmetic dentist for adults and an experienced pediatric dentist, as well an orthodontist, an oral surgeon, and an endodontist who is often visited by other dentists when they need root canals.
3. Regular Brushing and Flossing. It's almost certainly not news to you that you need to regularly brush your teeth with a quality toothbrush and fluoride toothpaste at least two times daily to maintain your oral health, notes Medical Center Dental Care. And, despite some recent debate on the subject, the center adds it still makes a lot of sense to floss regularly, if for no other reason than to prevent nasty breath caused by chunks of food stuck between the teeth. It's also a good chance to take a closer look at your teeth and inspect them for any telltale signs of potential problems.
Readers based in the western San Fernando Valley area of Los Angeles can learn more about Medical Center Dental Care by calling all their offices at (818) 452-0038 or visit the practice's website at http://www.MC-WestHillsDentalCare.com.